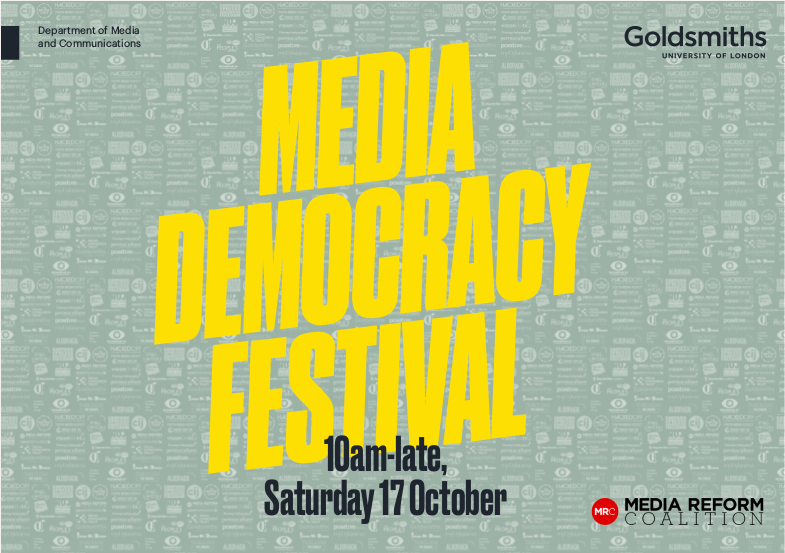 Leonore Schick from Resonance FM responds to the question we're asking people in the run up to the Media Democracy Festival on 17th October… 
A couple of weeks ago I went to a meeting at a café in East London organised by the Media Reform Coalition. I went with a new friend I made at The Spark who'd set up a podcast, Inform my Opinion. I told her about my podcast, and so we bonded over that. It made sense for us both to turn up at the this meeting, as we are both, in our own ways, have been re-calibrating and re-researching stuff that goes in the news.
The aim of the meeting was to help organise the festival that's happening at Goldsmiths on October 17th. And the aim of the festival is to start speaking about media democracy. So here we are: my thoughts on media democracy, or more precisely, an attempt at answering the question "how can we create media democracy?" because that's what the guy said we should write blogposts about. And here's what I am going to say I think that there are already little pockets of media democracy, and these need to be better funded and promoted, while other places need better legislation and regulation. What I'm not going to do is go into how to legislate and regulate, because I have little to no idea.
And with what legitimacy may I write about media democracy, you ask, well, a pinch, I tell you. Firstly, as a citizen and a voter and all of that, an all round person who can read and regularly reads the press, "alternative press", and listens to the radio and podcasts. Secondly, as someone involved in community radio, both at ResonanceFM, an arts radio station in London, and New Dawn FM, a local radio station in Bougainville, Papua New Guinea. And thirdly, as a blogger and creator of independent podcasts and short films. And yep, I have seen "Manufacturing Consent."
What is media democracy?
So before I get into all this, it's probably worth spelling out what media democracy is understood to be, because, surprisingly, the clue is not in the name. From what I've understood, media democracy has been defined using one or more of these points:
media which is not for financial gain

media which is not for furthering private interests

media which is owned by more people than I have fingers

media which is in the service of the public to inform and empower all members of society

media which involves citizens as active participants rather than passive consumers (the term "citizen journalism" gets thrown about)

media which is accountable to those it is seeking to inform
How do people how to achieve media democracy?
People have suggested a range of ways media democracy can be achieved.
One is to reform mass media by keeping checks on media ownership concentration. So the fact that three companies control nearly 70 per cent of national newspaper circulation in the UK is a problem and a hindrance to "media pluralism," ie lots of people owning the media. Media ownership concentration is worrying for obvious reasons – just watch Mr Smith Goes to Washington for a nice demonstration of the suffocating power of it.
Another is to strengthen the role of regulators like Ofcom in the UK to ensure the output is in the service of the public. Currently, the EU is working on media reform and regulation (there is none – we have consumer protection and human rights but no body keeping checks on the media) and specifically on a Europe Media Monitor, but I've looked at their website and it makes little to no fucking sense.
And then there's the "citizen journalism" thing. To me, that sounds like "do the work but don't get paid," but I would say that wouldn't I, given I'm currently writing this for my blog (nb. this isn't for financial gain). Obviously the issue with citizen journalism is you get rookies with no journalism qualifications like myself talking shit on the internet, and also you don't get fact checkers. Also, not everyone has time to be a citizen journalist, and most people don't care / want to be. My friend from Inform My Opinion just wrote this to me about citizen journalism: "I remember that we were speaking to another independent documentary maker about how to 'organise' independent citizen journalists and how [one news network] often takes footage of citizen journalists (esp. posted on social media) and credits them while creating a succint story around it (or 'doing all the hard work')."
At the Media Reform meeting the other week, people were talking about collectives, local groups around the country, how to finance these, so there are ways, and I'll have a look at some attempts in a minute. I read the Guardian, the BBC, and occasionally a few other outlets, of which Vice, which Murdoch now has a stake in (5%), but also Democracy Now, which is an interesting case, and John Oliver's Last Week Tonight, which, crucially, is a US comedy show. I also have some information to share about the incredible structures of ResonanceFM and New Dawn FM, both of which define themselves as community radio.
The BBC, the Guardian, Democracy Now, and Last Week Tonight.
So the BBC. I'll be brief on this bit. It's amazing. I know there are a ton of media reform people out there who hate it, but I'm in the loving it camp. Panorama is a good example of why the BBC is so great: in depth, well put together investigations, serving the public interest, funded with public money, distributed freely. Tick, tick, tick, tick, tick. Hey, don't cut the funding ok? I <3 the BBC. But seriously, it's run in a pretty stuffy way. It has been suggested that it be democratised by electing the director general.
The Guardian is run by a company which is barred from paying dividends. It audits itself to make sure it is being ethical. It literally hid hard drives from the government during the wikileaks thing. And now it accepts money from voluntary subscribers. And also distributes all of its content for free. Tick, tick, tick, tick, tick. Perhaps I'm seeing too rosy a picture – I read about some Caymans Island stuff but can't find any proof for it. So let me know.
Democracy Now is a news show in the US "funded entirely through contributions from listeners, viewers, and foundations," according to their website. Amy Goodman is a bit of a personal hero and the show offers perspectives that Fox and CNN probably couldn't even conceive of. It also distributes all of its content for free on the Internet Archive.
I've been watching a lot of Last Week Tonight (I want to keep a miniature John Oliver on my shoulder so he can explain the world to me as I walk around). Sure LWT is on HBO, a subsidiary of the Time Warner giant, but I've noticed that some satire, because it is satire, it gets around the brickwork of for-profit/for private interest news. And Oliver has been making a real difference – each show covers topics which are under represented in the USA media. The popularity of Oliver's show means that people in positions of power are reacting and responding to his content – a ninth circuit judge (wtf is a ninth circuit judge) footnoted the show in a case. He says he's not a journalist, he's a comedian, but he's doing a pretty great job of doing both at the same time – if making a difference is doing a good job. And I think that part of this – like in BBC's Panorama – is the long-view approach. Rather than a three minute segment on net neutrality, he'll do a whole show, which sums up past issues and current debates, and promotes hashtags to make passive audience members slightly more active. LWT is NOT an example of media democracy (and it's not in the UK either), rather a stop gap of how content makers on for-profit and privately owned media outlets can subvert it and do their own thing while waiting for a magic moment of proper legislation and funding in favour of media democracy to happen.
Resonance FM and Independent Podcasters
The other station I know about is ResonanceFM, having done a show there for a few years now. Resonance is independent media at its purest, with opposing views on the same station, shows in different languages, a show by and for pensioners, our female chat show (women are drastically underrepresented in radio) and the great work done by Novara Media. Resonance also put Democracy Now out. Funded through the Arts Council as an arts radio station, and through donations, Resonance is nevertheless very political. It is a registered charity and seems to exist through some fantastic weird loophole in the universe where great things happen and media democracy is already in place.
I also wanted to tip the little hat of media democracy off at independent podcasters, who, like ResonanceFM programme makers, are not paid for their work. How can they get paid? Crowdfunding? I don't know. Radiotopia, a podcast collective in the USA, have successfully done that (with sponsors and public radio funding too though). I've been collaborating of late with the great people from Inform My Opinion who document activism and also tackle the topics of mainstream media. Again, they aren't paid, but interestingly work as a small collective.
I Can't Not Talk About Bougainville All The Time But If You're Fed Up By All Means Skip This Section
New Dawn FM is a community radio in a post-conflict region of Papua New Guinea called Bougainville. The man who set up, funds and runs the station is called Aloysius Laukai. Between 1988 and 1998, there was a war in Bougainville, and since then, peace has been taking hold bit by bit. Aloysius is a Bougainvillean who set up New Dawn FM to strengthen the community. It is Bougainville's only community radio station and one of two stations broadcasting locally.
The reason I bring up New Dawn FM is because of one incident where Aloysius said it would be unwise to do a live broadcast because people might argue on air. To me, who grew up in the UK and France, arguing on air is a good thing, but in a region that is still recovering from conflict, peace, he explained, means not rocking the boat. Serving the public interest is in this case is opposed to informing the public. A similar point of view is expressed in this article about Chinese journalism in Africa (and Chinese journalism is not democratic): "The Western media may be telling the truth, but if you are telling the truth and things are just getting worse and people are afraid of travelling to Africa, for whose good is this?" So for defining media democracy, there's still some hashing out that needs to be done.
Media democracy also is an implied nationalist term in the sense that democracy entails a state, or at least a defined group. But it's pretty clear that the ideals of media democracy go beyond national interests. In this sense, something that is lacking from all these outlets are perspectives from developing countries. Strengthening ties with community radio stations around the world, such as New Dawn FM, would mean that the struggles faced by, say, people living near the remains of mine previously owned by British-Australian company Conzinc Riotinto, based in London, could be more easily reported in the UK.
So, can you tell me now, how can we create media democracy?
I think we've seen that elements of media democracy already exist in small little pockets, so it's not a question of "creating" rather than "extending" – and this, perhaps, through targeted funding and legislating.
Kindly republished from:
https://radioactivisms.wordpress.com/2015/08/31/media-democracy/
Follow author Leonore Schick on: