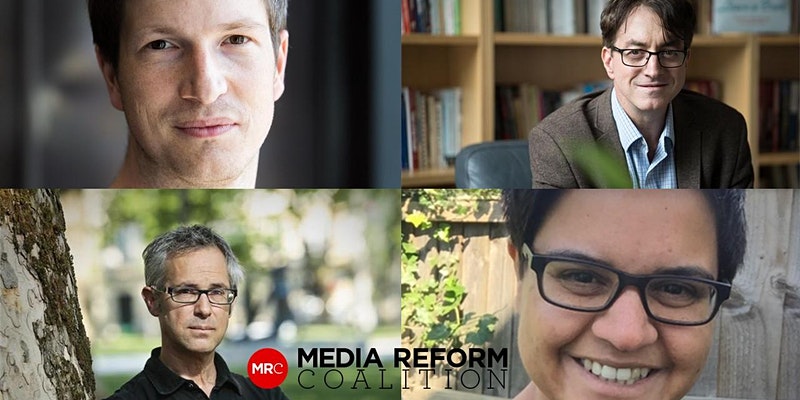 6pm, Tuesday 19 May 2020, register here
MRC is joining with Liverpool's Writing on the Wall Festival to bring three leading media reform activists together to discuss media failures and successes in covering the pandemic.
Kerry-Anne Mendoza is Editor-in-Chief of The Canary. She is known for creating one of the UK's top independent political blogs Scriptonite Daily, for authoring the best-seller Austerity, and for her Middle East reporting, notably Operation Protective Edge from Gaza through the Summer of 2014. Her passions are politics, economics and current affairs, which she examines with the basic question: "How do we build a world that works for everyone?" She is based in Bristol, UK.
Tom Mills is a lecturer in Sociology and Policy at Aston University. He is a former co-editor of New Left Project and author of the book The BBC: Myth of a Public Service which is an important and timely examination of a crucial public institution that is constantly under threat.
Victor Pickard is an Associate Professor at the Annenberg School for Communication, University of Pennsylvania and a board member of the US media reform group Free Press. Most recently he authored Democracy Without Journalism?: Confronting the Misinformation Society. Previous books include Net Neutrality: A New Deal for the Digital Age (with David Berman). He is also co-editor of the books Will the Last Reporter Please Turn out the Lights (with Robert McChesney), The Future of Internet Policy (with Peter Decherney), and Media Activism in the Digital Age (with Guobin Yang).
Des Freedman (chair)  was a founding member and recent chair of the Media Reform Coalition and was project lead for the Inquiry into the Future of Public Service Television chaired by Lord Puttnam.
Register here