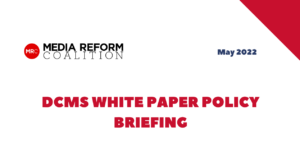 The government's recent White Paper on the future of the broadcasting sector represents a concerted ideological attack on public service media in the UK. Today, MRC has published a policy briefing on their proposed reforms. Our headline findings are:
The proposed revisions to the remit and regulatory frameworks for PSB are inadequate, and do not capture the full range of benefits that the public expects from the UK's PSB ecology
Proposals to update the prominence framework for PSB's on Video-on-demand services are welcome, but will achieve little in the context of the government's broader attacks on the sector
Plans for a new voluntary Video-on-demand Code are too light touch and will create a two-tiered system in broadcasting regulation
The decision to privatise Channel 4 runs counter to the best available evidence and has no democratic mandate
The BBC licence fee settlement and mid-term Charter review demonstrate direct interference by government, and the urgent need for measures to safeguard the BBC's independence
The briefing also contains our counter-proposals to safeguard and update PSB legislation based on our recent research reports.