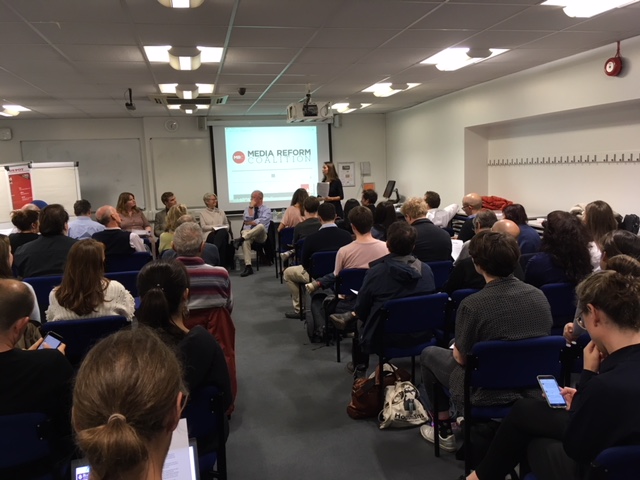 By Isaac Costley
On the 4 October the Media Reform Coalition (MRC) held a public meeting to discuss the Cairncross Review established by the Department for Digital, Culture, Media and Sport to examine the sustainability of high-quality journalism in the UK. The Cairncross Review was established in March 2018 and is due to run for 9-12 months. It is currently examining the evidence submitted as part of its public consultation and aims to identify the challenges and make recommendations on what industry and government action can be taken.
Addressing a packed meeting, Michelle Stanistreet, General Secretary of the National Union of Journalists, stressed the failure of the current structures of the press industry to provide security and welfare for journalists and workers as a key concern relating directly to the state of news and its overall sustainability. Job insecurity, regular redundancy rounds and the frequent loss of pensions are just a few of the symptoms of a long-failing system with dire consequences for the production of news. She spoke of an industry no longer tenable by reliance on the revenue created from sales and/or the traditional forms of advertising; of a broken business model that has impacted on both the conditions of work for journalists and the nature of the news we read. One of the consequences has been a blurring of the once clear-cut boundary that separated commercial and editorial copy. Clickbait now determines journalism with success characterised by the number of 'clicks' they gain rather than a journalism of integrity or "high quality".  Increased importance is given to sponsored content that is often weakly labelled. Commercial pressures dominate newsroom practices. The lack of job security adds to a culture of conformity where journalists are forced to suppress their own professional ethics or be subject to bullying and persecution with the risk of losing their job.
The NUJ's submission to the Cairncross Review is eager to ensure that any new funding that comes into the industry is not used to prop up an already failing system. There is a fear of companies using any funding cynically to cut costs rather than to enhance news. The current subsidy that comes from the BBC in the form of the Local Democracy Reporter (LDR) scheme was criticized for being used to employ people on exploitative contracts with less pay than their colleagues. Stanistreet also noted that some organisations had taken the subsidy for LDRs whilst making other journalists redundant – placing profit over the public interest and defeating the aims of the scheme. To avoid these pitfalls the NUJ propose that any subsidy recommended by the Cairncross Review should come with strict conditions for news organisations to meet, plus a set of ethical requirements, and that the funding should be used to invigorate a plural news media landscape rather than simply ensuring more of the same.  Investing in new models of news will sustain the future of the industry and allow new entrants to gain a foothold. The subsidy could be raised from the new media giants such as Google and Facebook, paying back, in the form of a tax, into an industry that they are currently crippling. Other ideas such as classifying newspapers as community assets in order to stop flash closures and giving working journalists the opportunity to own and run local newspapers as cooperatives, as well as allowing charitable status for public interest journalism that could attract more philanthropic funding were put forward.
Martin Moore, founding Director of the Media Standards Trust and currently Director of the Centre for the study of Media, Communication and Power, Kings College London spoke about digital media in relation to his most recent research regarding ad-tech and how it is distorting online communications.  He recounted how the personalization of adverts to each internet user is based upon advanced algorithms designed to mine an individual's data for a highly personalized and unique digital experience to maximize the creation of advertising revenue. This practice relies on the digital tracking of internet users and the subsequent bidding for their attention based on how suited their history is to a particular advert. Platform power derives from their ability to organize, sort and prioritize data and then use this to present content to users that will deliver the best advertising return. Whilst this is already problematic as it personalizes search results and jeopardizes the transparency of "free" information on the internet, it is also damaging competition.  The constant and evasive tracking required to create such algorithms is only possible by the likes of Google and Facebook as only they have the resources and funding required for an operation of such complexity. They will therefore continue not only to monopolize the market but also to control which advertisements appear on news websites and ultimately, which news stories people are directed to. Algorithms are constructed on the basis of profit and are not geared towards "high quality" news/journalism yet they feed the news which people consume. In order to break this model Moore warned against a levy on advertising revenue generated by the digital giants as this would only further reinforce the domination of adtech and further dis-intermediate new organizations.
Following on from Martin Moore's focus on the digital, Angela Phillips, Professor of Journalism at Goldsmiths and a member of the Media Reform Coalition, suggested that what is needed is a publicly funded search engine to be deployed between countries on a Europe-wide basis, removing the requirement for ad-based funding. Professor Phillips was also keen to emphasize that any subsidy forthcoming should not be provided to feed either directly or indirectly back into for-profit legacy media. In support of the NUJ position she noted that large media corporations already rely on the exploitation of freelance and work experience journalists and voiced concern that, as with the BBC subsidy for Local Democracy Reporters, this funding would be used to substitute existing jobs and undercut local wages rather than to create new jobs and enhance journalism. She also stressed that any form of subsidy would need an independent organization to provide a regulatory framework to prevent any suggestion of state interference in news content and that only news that was ethically produced in the public interest should have access to any form of subsidy. Compliance with the Leveson recommendations was therefore suggested as a minimum requirement. She emphasized that local news is a key element in the news ecology and without it the national media would be impoverished and unable to report on the stories happening all over the country. She then went on to outline the MRC's proposal for the setting up of a networked local news wire service composed of a series of small hubs that would resource existing local news providers whilst also offering a significant boost to plurality at the level of wholesale newsgathering to be funded by a levy on digital advertising revenues of the largest companies.
The final speaker was Jim Cusick formerly a journalist at the Independent,Independent on Sunday, Sunday Timesand the BBC and currently the editor of openMedia at openDemocracy. Cusick outlined the immediate dangers to the current failing news business model – especially those relating to a further loss of trust in news media through a lack of transparency caused by advertisements dressed up as news stories – as news organisations desperately look for ways to increase profit margins. He spoke about how sponsored content is disintegrating the boundary between commercial and editorial journalism, resulting in news which does not reflect current events but rather the interests of whoever pays for the article. To counter the dangers of decreasing trust complete transparency is required on behalf of the mainstream press to state clearly to the reader when an article is sponsored and by whom.
The discussion that followed was wide ranging with a general consensus emerging that any recommendations for a news subsidy coming out of the Cairncross Review should not be to simply supplement more of the same and to prop up failed business models. Rather, subsidy should help sustain different types of news organisations such as non-profit or cooperative models of ownership more concerned with public interest journalism than with increasing profit. There was general agreement that any subsidy should come with conditions including compliance to a Leveson framework and other ethical criteria.