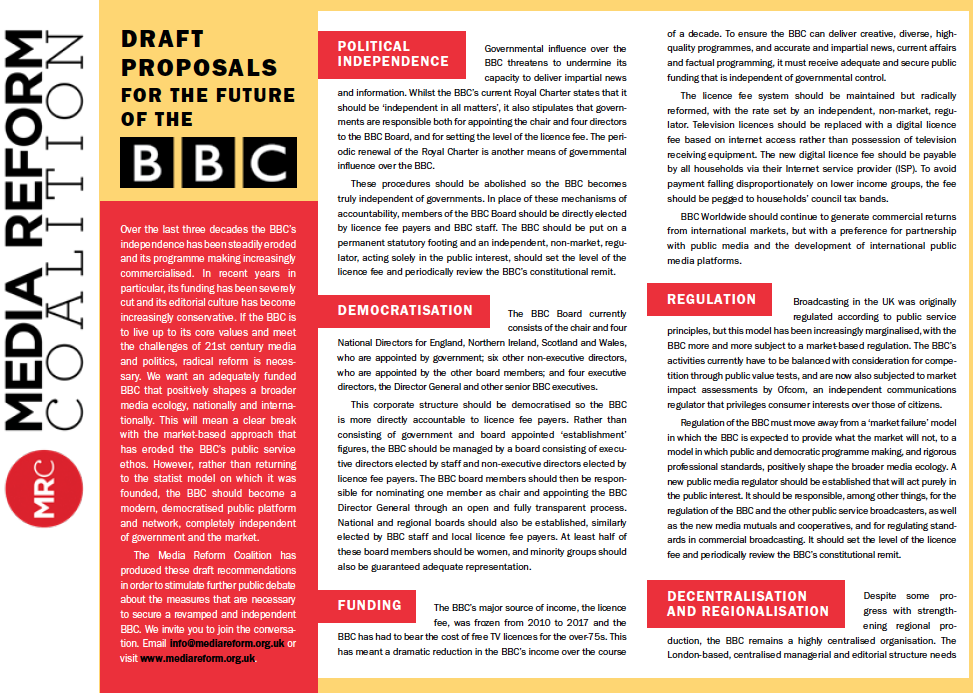 Following the publication of the Media Reform Coalition's draft proposals on the future of the BBC, we have organised a public debate on "The Future of the BBC: Public Media in the Age of Google and Facebook" in Committee Room 9, Palace lf Westminster at 6.30pm on Tuesday 16 October. Free tickets are available here. We have also received some tremendous endorsements for the proposal which you can read below.
What's gone wrong with the BBC and how can fix it?
Jeremy Corbyn has called for the BBC to be democratised. How would this work in practice, and what other changes are needed to safeguard public, democratic media in an age of Google and Facebook? This event launches radical reform proposals produced by a working group of the Media Reform Coalition. They advocate adequate funding and real political independence, but argue that rather returning to  the top-down, statist model on which the BBC was founded, it should become a modern, democratised public platform and network, fully representative of its audiences and completely independent of government and the market.
Join Clive Lewis MP, Tom Mills (sociologist and author), Zoe Williams (the Guardian) and Amelia Womack (deputy leader, Green Party) for a discussion on the future of one the world most influential media organisations.
This meeting is FREE and open to all
Endorsements for our proposals:
"The BBC has become part of the UK's informal constitution. Just like the constitution itself, its role now needs to be formalised in a way that people can understand, identify with and believe in. The Media Coalition's draft proposals are doubly welcome therefore: by initiating a debate on the democratic independence of the BBC they also engage with the nature of public life and public values when the need for integrity and honest debate has never been so acute."
(Anthony Barnett, founder, openDemocracy)
"I welcome this first attempt to codify a reformed, democratic BBC. We need to make it the platform for a national conversation, a BBC of the people, for the people. A BBC with a social purpose, not a commercial purpose."
(Tony Garnett, Producer and Writer)
"Given its reach and its historic level of trust as a news organisation and cultural beacon, it's even more important today to renew and restore trust in the BBC by ensuring it is truly independent from political influence or corporate pressure, and that its structures are democratised and don't become increasingly captured by a wealthy London-based elite."
(Peter Jukes, author, journalist, CEO of Byline and Byline Festival)
"The BBC is a much loved and hugely valuable part of British life – and indeed the lives of people around the world. It's vital that its independence and unique role as a public service broadcaster are protected and strengthened wherever possible. In the current media climate, that means working hard to defend against political and commercial pressure. I therefore very much welcome this debate about reform and how to guarantee the BBC can continue to contribute to and help safeguard our precious democracy."
(Caroline Lucas MP)
"The Media Reform Coalition's Draft Proposals for the Future of the BBC provides exactly what the doctor ordered: clear analysis based on a rich understanding of the importance of public media to democratic societies, as well as smart, thoughtful and provocative ideas to make the BBC succeed in the digital era. Whether one agrees or disagrees with the proposals, they deserve examination and debate by elected officials and the public at large."
(Professor Bob McChesney, author of Digital Disconnect and many other books)
"These proposals for a reformed BBC are necessary, reasonable, and timely. The BBC must maintain strict independence from both the market and government, and it must be governed by true public representation. If implemented, these proposed reforms can safeguard core democratic principles and help guide the BBC well into the digital future."
(Victor Pickard, author of America's Battle for Media Democracy)