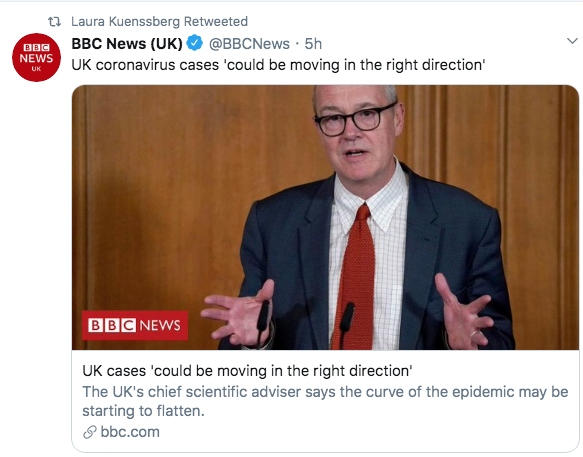 by Gary Merrill
Every afternoon, Downing Street hosts a briefing for journalists to update them – and their audiences – on latest developments concerning the Covid-19 crisis. In this special post for MRC, Gary Merrill of the University of Roehampton, argues that the briefings are generating very little heat and certainly no light, mostly because of the reluctance of journalists to ask the most pressing questions.
With a couple of notable exceptions, the standard of journalism at the UK Government's daily coronavirus briefings has been lamentable.
This might not be apparent to most viewers, but if you have ever read any critical journalism research, it becomes the most painful and tragic case study of the greatest problem facing British journalism. Yes, even worse than phone hacking, celebrity 'reporting' and other tabloid 'news gathering' techniques.
On Monday April 6th, for example, virtually every question was about the health of Boris Johnson. Fair enough, you might think, he is the prime minister and he's had Covid-19 symptoms for some time. 
I'm no fan of Boris but I genuinely hope that he gets well soon; I wouldn't wish intensive care on anyone. But why did Laura Kuenssberg (BBC), Robert Peston (ITV) and the Sky News journalist ask, essentially, the same questions over and over?
Did the second questioner really think that the government spokesperson, Dominic Raab, would say: 'Yes, you're right, Robert. Boris is indeed much sicker than I initially said. And sorry, Laura, for not answering your first question more honestly.'
What annoyed me here was the journalists' obsession with power and who wields it. Coupled with this is a second obsession: the overarching need to 'break a story.' Implicit in the journalists' line of questioning was: 'if we ask it often enough, then eventually Raab will crack and give us the truth.' That was never going to happen. It never happens, so why do the journalists persist?
But there is another, deeper problem with this modus operandi that impacts us all. By focusing on power and personalities, and chasing the next big story, journalists are neglecting their core duty: to ask the most vital questions on behalf of the general public.
It is universally agreed that doctors, nurses and other caring staff should have the personal protection equipment (PPE) they need. They need this equipment now and yet there are still major issues with its availability. 
It is also agreed that lockdown cannot end until the experts are sure that virus has been, effectively, eradicated. Clearly, this requires widespread and regular testing on a massive scale. It would be insane, irresponsible and idiotic (and potentially, cataclysmic) to lift restrictions unless the authorities are sure that Covid-19 is no longer being transferred from person-to-person.
With no disrespect to Boris, these two issues – PPE and testing – are far more important on the grand scale of things. And yet, he, his health and the structures of power get the spotlight.
This illustrates a third failing of this modus operandi; mainstream journalists need a new story every day. Quite simply, PPE and testing are considered 'last week's news.' This doesn't mean these issues have been resolved, of course, but the 'news agenda has moved on', apparently. 
During Tuesday's briefing, I sat in front of the TV and noted the sequence of questions. In total, I counted 17. Not one was about the availability of PPE, and we had to wait until question number 13 (from Joe Murphy of the Evening Standard) to even hear the word 'testing.'
In contrast, Laura Kuenssberg of the BBC – who, as usual, was the first questioner – focused on power and people (who is making the decisions now that Boris is in hospital?) Robert Peston was next with two of his three questions following the 'who makes the decisions' line. My optimism was boosted, however, when he also asked: 'what can we learn from Germany?' but he didn't single out testing as an example, despite everyone knowing that the Germans have been testing around 100,000 people a day – far more than the UK – for some time.
It is painfully tragic that these very skilled journalists are following the same general approach that has been proven so ineffective during previous crises. Indeed, you can see the same patterns in the 1990's 'DotCom' bubble and subsequent stock market crash of 2000; the prelude to the Iraq War in 2003; and the lack of critical reporting during the Credit Boom of the mid-2000s.
One possible reason for history repeating itself is that very few prominent mainstream journalists have actually studied journalism. Check out their Wikipedia pages and you'll see that most senior BBC journalists directly entered the profession as humanities graduates of Russell Group universities. Some later took industry-accredited journalism courses (NCTJ, BJTC, etc.) which focus on skills, media law and contextual knowledge (public administration, etc.) but none is a graduate of a journalism course with a critical element. Essentially, most senior mainstream journalists learned their trade 'on the job' from the previous generation of senior mainstream journalists.
They certainly know how to write articles and how to do a piece to camera. They know all about tenacity and how to phrase questions. And they convince themselves that they are 'holding power to account.'
However, if these journalists – the ones the British public depend on to ask burning questions on our behalf –  actually read some of the numerous, peer-reviewed empirical studies that analyse their work, they would realise that they're much closer to lapdogs than watchdogs. And this might just explain why they don't read it.
You can hear more from Gary in his two videos on YouTube – here and here – on 'People Like Us: Politicians, Journalists and the Great British Public'.