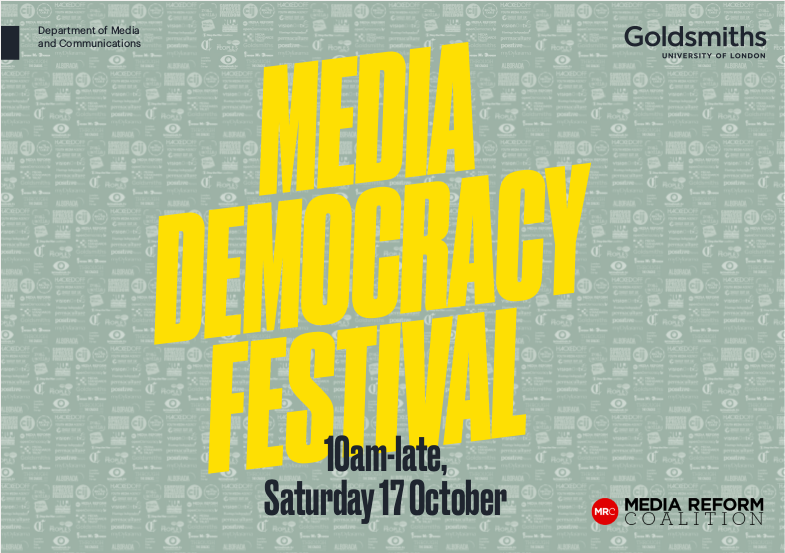 In the run-up to our big Media Democracy Festival we've been asking people to write blog posts on the central question we're asking at the event: How Can We Create Media Democracy? 
A  few weeks ago we published a great contribution from Resonance FM's Leonore Schick.  Here is another from Lucy Johnson who is a Media Studies teacher
How?
Not by handing a controlling share of BSkyB to Rupert Murdoch (thanks Jeremy Hunt), or by employing Andy Coulson, or by getting in tight with Rebekah Brooks or Wade or what ever her name is, or by putting profit before people.
Grass roots? You heard it here! Citizen journalism, blogging, the power of the network, fearless investigation, getting the truth 'out there', reliable sources, lack of bias, objectivity. Knowing what makes a good 'story' but not privileging a great sound bite over reality and the pursuit of justice.
Too many media 'stories' are really 'selling opportunities' and default to the 'cult of the personality', celebrity if you like. Rolling 'news' has meant that we are plugged in to the 'media' on an almost constant basis and we demand 'content'.
The most puerile or insignificant act of a 'personality' is of consequence in this world as 'click bait'; everyone with a computer and a broadband connection is complicit in this 'theatre of banality'. So many stories are based around a 'position' and then the opposition or other wise of a host of 'actors' to this.
How can we get beyond this dichotomy?
Oddly enough I don't actually think the big news out fits are necessarily utterly dispensable or culpable in all this, but, confessing my own bias, I must say that a higher standard of understanding of the nature of the media (I am a Media Studies teacher) and what actually is worth while or significant is of paramount importance.
Too many people of varied political stripes simply have an axe to grind and I think greater perception of this would lead to an increased quality and more democratic media, after all there is no point having a voice or vote if the individual has scant ability to self actualize in all this. Another Angry Voice is an interesting example to me in all this, a left wing voice in amongst the mainly corporate news out lets.
Now I do not agree with absolutely everything that AAV posts or posits but the fact that he has the ability and the resources available to do this is surely part of the pluralistic media democracy of tomorrow. Similarly the ability of writers and others to host 'salon' on an ongoing basis on their Facebook pages or walls must be part of this as well.
To me the point of a 'media democracy' and the co-creation of it, is to be part of a society where more things are getting better for more people and that does not simply mean 'growth' as we have traditionally understood it. It is the power to be more fully our selves and free from tyranny.
Inclusivity, tolerance and understanding must be part of this. Knee jerk posturing and cliques don't belong in this as far as I can see, but patience and the willingness to be open and playful in an era when we are told we face 'austerity' but when we go in to the shops any one can see we are richer than we ever have been.
Media democracy and its creation is the chance to work out these contradictions in the spirit of solidarity and conviviality