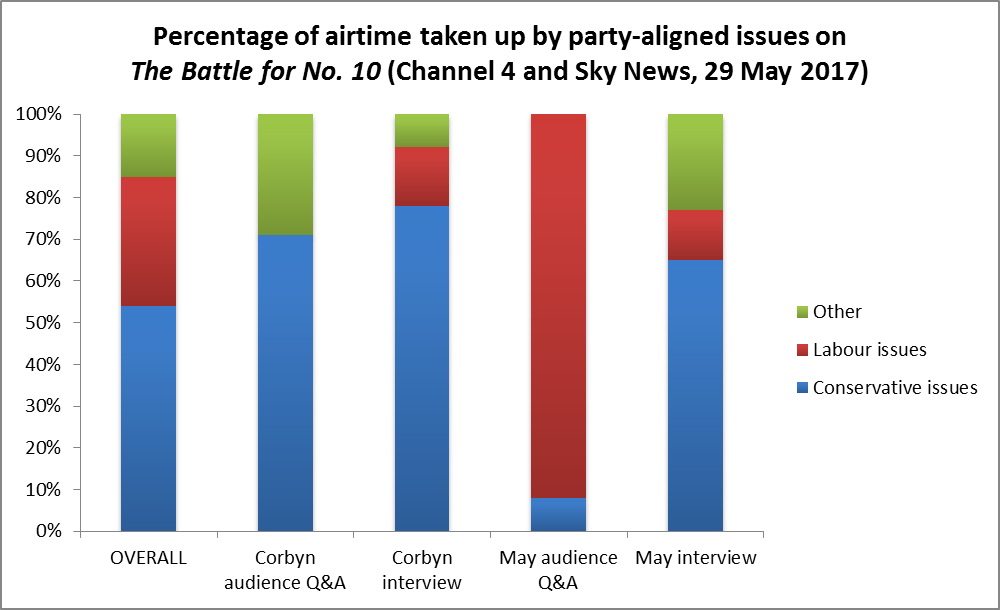 by Justin Schlosberg
Last night's television debates featuring Jeremy Corbyn and Theresa May marked the return of the general election to the top of news agendas, and the start of the crucial final ten days of campaigning.
But the programme also reflected one of the most consistently proven distortions in mainstream coverage of recent elections. In 2015, a study by Cardiff University (among others) revealed that the issue agenda of broadcasters was significantly influenced by the predominantly right wing national press, and that this largely favoured the key issues pushed by the Conservative Party campaign.
In reflecting on the campaign coverage, journalists by and large attributed the Tories' electoral success to their ability to shape the news agenda in this way. As Tim Ross from the Telegraph remarked:
The decision to focus relentlessly on the economic message, at its most basic, is the dominant reason that the Tories won. Every other salvo in the Tories' 'air war' was a variation on this theme: they were the party of economic competence, of the 'long-term economic plan', and all their opponents were emissaries of 'chaos'.
By contrast, the main issue pushed by the Labour campaign – health and the NHS – received comparatively less attention, and less than the proportionate value attached to it by the public, according to weekly polling by Yougov.
Since the manifestos for this election were published, the issue battle lines have been drawn around foreign policy, security and Brexit (prioritised by the Tories) and public spending, nationalisation and social care (prioritised by Labour). This does not mean that either party has sought to ignore the issues prioritised by the other. But it does more or less capture the degree to which the respective parties are proactive or reactive on certain issues (judging from campaign press releases, tweets, speeches, interviews etc).
Nor does it mean that the coverage has focused entirely on a two horse race between Labour and the Tories. But Labour's dramatic rise in the polls since publication of the manifestos, combined with poor performances by both Liberal Democrats and UKIP, has sharpened the media focus on the two main parties.
In an attempt to demonstrate impartiality and balance, broadcasters often religiously assign equal airtime to the two main parties and apply aggressive interviewing techniques. But as we have seen so far, this can produce a vacuous line of questioning that seems more about trying to trip up politicians rather than offer meaningful interrogation of policy.
As for the issue agenda, the majority of both airtime and questions during last night's television debates were focused on issues pushed by the Conservative campaign (54% of airtime compared to 31% for issues prioritised by Labour). This distortion was caused primarily by Jeremy Paxman's interview with Theresa May, which focused predominantly (65% of airtime) on Brexit and immigration – the number one issue ground for the Conservatives – with just 1 question (12% of airtime) addressing Labour's preferred issue ground of social care. What's more, Paxman's line of questioning was overwhelmingly predicated on far right perspectives (such as concerns that May has been too soft or ineffective in controlling immigration).
This raises serious question marks over the willingness or ability of broadcasters to depart from an issue agenda consensus established by the Tories and the predominantly right-wing national press. Especially at this critical stage of the campaigns, broadcasters must not just rely on superficial measures of balance but pay special attention to the balance of issues that achieve salience in all forms of coverage.
It is also imperative that broadcasters avoid reducing interviews with politicians to a game aimed at producing snappy headlines. In particular, the 'who said what and when' line was applied with nearly equal ferocity to both leaders last night, but which makes no contribution to informed debate. It was clear from immediate responses that both the Labour manifesto and Theresa May's position on Brexit was the outcome of democratic process, but this did not prevent Paxman from taking up substantial airtime with repeated questions and interruptions on the same theme.
As for catching out Labour on numbers, this continues to be a headline grabbing narrative amidst the fallout from Jeremy Corbyn's interview for this morning's Women's Hour on Radio 4. What's missing in this blood sport approach to interviewing, is an appreciation of the range of numbers that Labour front benchers have had to memorise across their respective briefs, on the back of an unprecedentedly detailed costing for an equally unparalleled range of tax and spending commitments. Judging by current headlines, there appears to be a group think among mainstream titles ranging from the Telegraph to the Huffington Post that there is intrinsic news value in these politicians, under enormous pressure, being unable to recall on the spot specific figures included in their costings. But it is highly questionable whether this kind of on-air memory testing amounts to impressive journalism, or anything approaching real journalism at all.
Finally, today's lead story in the Telegraph's print edition (30 May) contained an extreme inaccuracy stating that "both [Conservative and Labour] leaders have refused to debate each other head to head on television". It is well-known that Jeremy Corbyn has urged Theresa May repeatedly to engage in such a television debate that she alone has refused. The basis of the Telegraph's falsification is unclear but reflective of a pattern of fake news established during the last election.
Analysis of both audience and interview questions produced the following exhaustive issue categories: 1) foreign policy/security, 2) immigration/Brexit, 3) the monarchy, 4) public spending/welfare, 5) nationalisation, 6) taxation, 7) leadership. Issue categories 1-3 were further classified as Conservative-aligned, whilst categories  4 & 5 were classified as Labour-aligned and 6 & 7  classified as other (drawing primarily on respective manifestos, campaign press releases and tweets since 15 May). Coding adopted a cautious approach identifying predominant focus of each question and distinguishing between interruptions/follow ups and new lines of questioning.