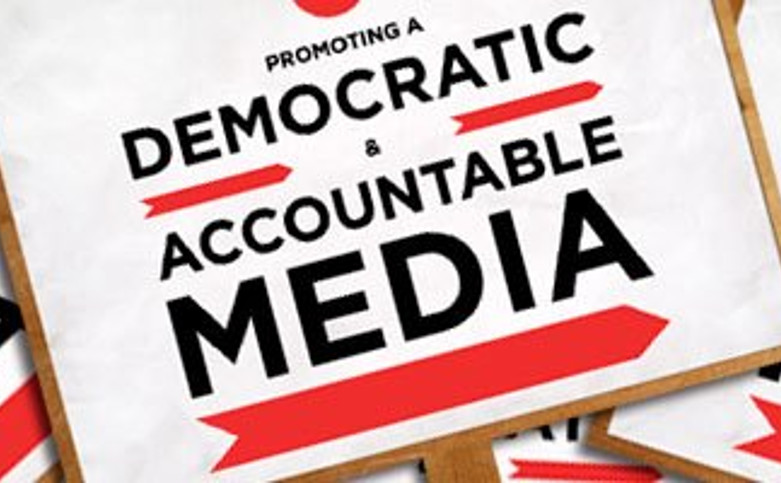 Timetable and free registration is here
10am-6pm Saturday 17 March, Birkbeck, University of London, Torrington Square, London WC1E7JL
In the UK, a handful of giant corporations control the nation's TV channels, news outlets, radio stations, search engines and social media platforms. This has given wealthy individuals and organisations huge political and economic power and enabled them to distort the media landscape to suit their interests and personal views. In recent years, however, the power of the media monopolies has begun to be challenged: newspaper readership is down, and events like the astonishing turnaround in the 2017 election campaign show that alternative news sources and social media content produced by campaign groups can influence a mass audience; there is also growing awareness of media abuses, and campaigns are building to starve bigoted media outlets of advertising revenue and stop the objectification of women. The tide may be turning, but urgent reform is needed to reclaim the media in the interest of the public and to provide media free of bigotry and capable of holding power to account. We also need to find ways of supporting new alternative media platforms and diversifying content.
The Media Democracy Festival will be a national gathering open to the public, bringing together media democracy campaigners, researchers and citizens to take part in talks and discussions on issues from media racism to alternative models of media funding, ownership and control, to the running and independence of the BBC. It aims to help build the movement for democratic and accountable media. Join us if you think media moguls and press barons have too much power and influence in our society, want to protect and democratise the BBC, would love to see media co-ops in every community or just work as an independent journalist, photographer or filmmaker. Our goal is to build a diverse and powerful movement for Media Democracy in the UK.
Join us on 17th March to discuss how we can work for a media that informs, represents and empowers citizens.
Tickets are available free of charge here.
Speakers:
Dawn Foster, Guardian columnist
Matt Zarb-Cousin: former spokesman for Labour leader Jeremy Corbyn
Aaron Bastani, co-founder and senior editor of Novara Media
Clare Hymer, Momentum communications and press officer
Kerry-Anne Mendoza, editor of The Canary
Rachel Shabi, journalist and Guardian contributor
Tom Mills, author of BBC: Myth of a Public Service
Richard Wilson, Stop Funding Hate
Peter Jukes, Byline Media
Prof David Miller, Professor of Sociology at the University of Bath and director of Spinwatch
Roz Hardie and Sasha Rakoff, founders of Object – Women not Sex Objects
Vanessa Baird, New Internationalist
Thomas Barlow, The Media Fund and Real Media
Justin Schlosberg, Media Reform Coalition
Prof Natalie Fenton, Media Reform Coalition
Prof Des Freedman. Media Reform Coalition
Prof Angela Phillips, Media Reform Coalition
Prof Jonathan Hardy, University of East London
Anamik Saha, Goldsmiths, University of London and author of Race and the Cultural Industries
David Leigh, Impress
Brian Cathcart, Hacked Off
Gary Merrill, Roehampton University
Kam Sandhu, Real Media
Joana Ramiro, freelance journalist
Riaz Meer (BECTU)
FULL TIMETABLE IS HERE