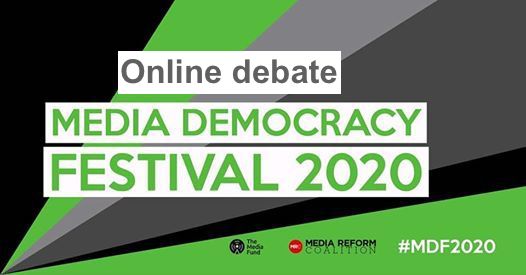 The 2020 Media Democracy Festival was cancelled because of the pandemic. Instead, in June 2020, we hosted a series of short lunchtime sessions on key themes concerning media democracy and social justice in the light of Covid-19 and beyond. All sessions are now available to view on our YouTube channel.
Our first event was on 'Zombie Economics, Post Covid-19 and the media' with Grace Blakeley, Noni Makuyana and Mike Berry. You can watch the whole session here.
Our second event was Media, race and religion: silences and scapegoats, 1pm Thursday 11 June (with Maya Goodfellow, Omega Douglas, Rizwana Hamid and Narzanin Massoumi). You can watch this here.
Our third event event was on Platforms: Pitfalls and Possibilities with Lina Dencik (Cardiff University and co-director of the Data Justice Lab), Alaphia Zoyab (senior campaigner, Avaaz) and Nathan Schneider (co-editor, Ours to Hack and to Own: The Rise of Platform Cooperativism). You can watch this here.
Our fourth event, co-hosted with Studio Voltaire, was A Transgender Journey: Juliet Jacques in conversation with CN Lester. You can watch this here.
Our final event was an introduction to the new investigative platform Declassified UK with its co-founder, the author and journalist Mark Curtis. This was hosted by Sweta Choudhury and can be viewed here.
We would like to thank the Policy Network of MeCCSA, the Media, Communications and Cultural Studies Association, together with the Department of Media, Communications and Cultural Studies at Goldsmiths for their support.