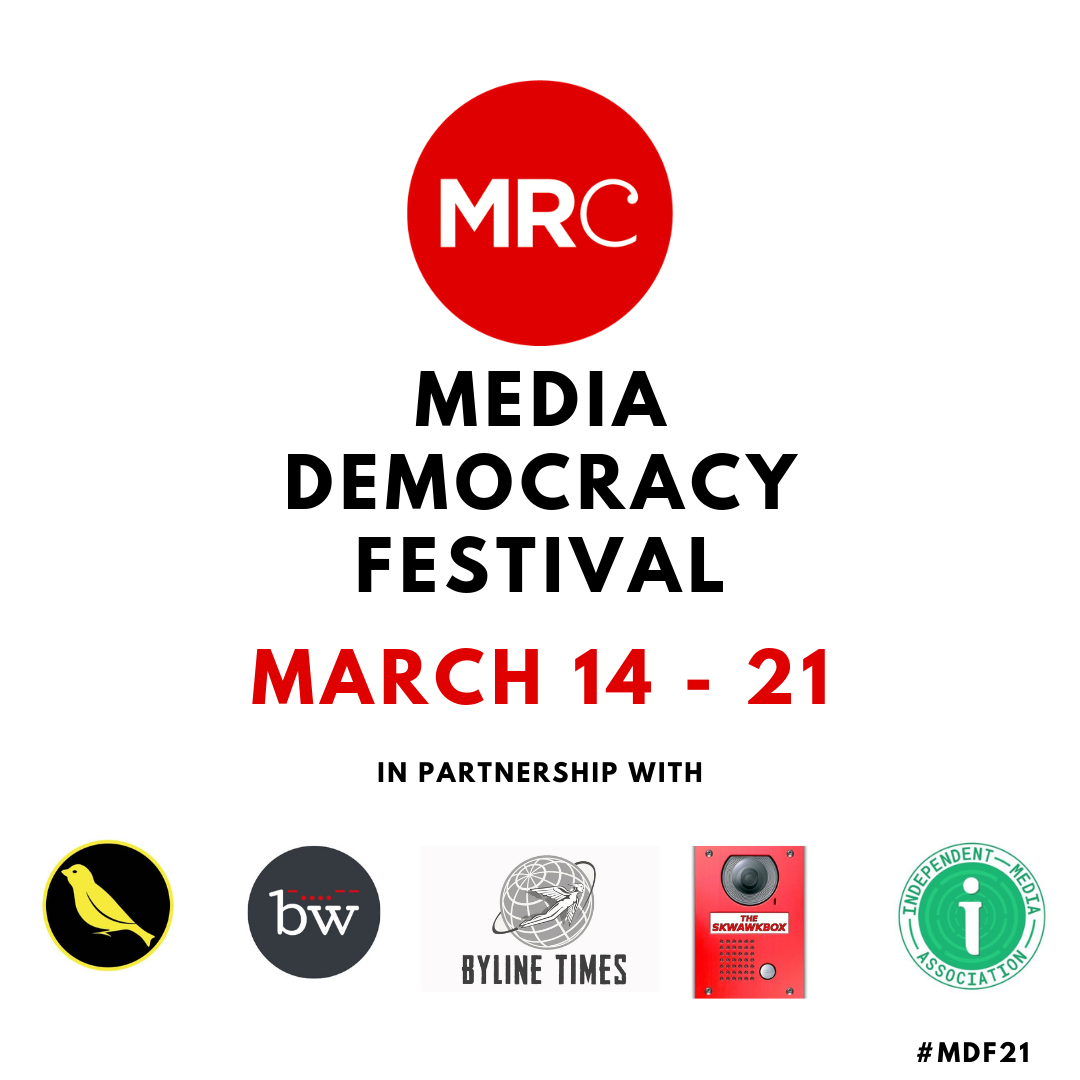 We're thrilled to announce the schedule for our forthcoming Media Democracy Festival, a week-long celebration of independent media voices and analysis of why our current media system is not fit for purpose.
We kick off with a keynote and Q&A from former Labour Party leader Jeremy Corbyn on 'A Free Media for a Free Society' – 6pm, Sunday 14 March
Do Black Lives Matter in the Media? with Kerry-Anne Mendoza, Chenjerai Kumunyika, Sarah Jackson and Omega Douglas, 5.30pm Monday 15 March
Media and Misogyny, with Sarah Banet-Weiser, Juliet Jacques, Samira Sawlani and Henna Zamurd-Butt, 1pm Tuesday 16 March
Class Acts: Why Class Still Matters in the Media with Sarah Jaffe, Gholam Khiabany, Deirdre O'Neill and Sarah O'Connell, 5.30pm, Tuesday 16 March
The Media and State Collusion, with Mark Curtis, journalists Trevor Birney and Barry McCaffrey, Police Spies Out of Lives, and Victoria Brittain, 1pm Wednesday 17 March
Blowing the Whistle on Media Coverage of Julian Assange, with Jennifer Robinson, Andrew Fowler, Peter Cronau and Benedetta Brevini, 8pm, Wednesday 17 March
In the Climate for Change: Fires, Floods and Media Failures with Gully Bujak (XR), Lola Fayokun, Toby Miller and Brendan Montague, 1pm, Thursday 18 March
Stenographers or Critics? Mainstream Media and the 'Westminster Bubble' with Zarah Sultana MP, Shelley Asquith (TUC), Leo Watkins (UK Media Influence Matrix) and Des Freedman, 1pm, Friday 19 March
The Times, They Are A-Changin! The Rise and Rise of Independent News Media, with Peter Jukes, Vanessa Baird, Jonathan Heawood and Kerry-Anne Mendoza, 5.30pm, Friday 19 March
The Solution or the Problem? What Should We Do with our Public Service Media? with Tom Mills, Clive Lewis MP, Pascale Robinson and Deborah Grayson, 1pm, Saturday 20 March
Media Reform: Possible? Likely? Enough? with Marcus Ryder, James Schneider, Hilary Wainwright and Victor Pickard, 5.30pm Saturday 20 March
Digital Rights & Digital Wrongs: From Online Harms & the Spread of the Far Right on Social Media with Emma Briant, Lina Dencik, Aurelien Mondon and Alan Finlayson, 1pm, Sunday 21 March
All sessions will be live on our YouTube channel so stay tuned on this site for details.