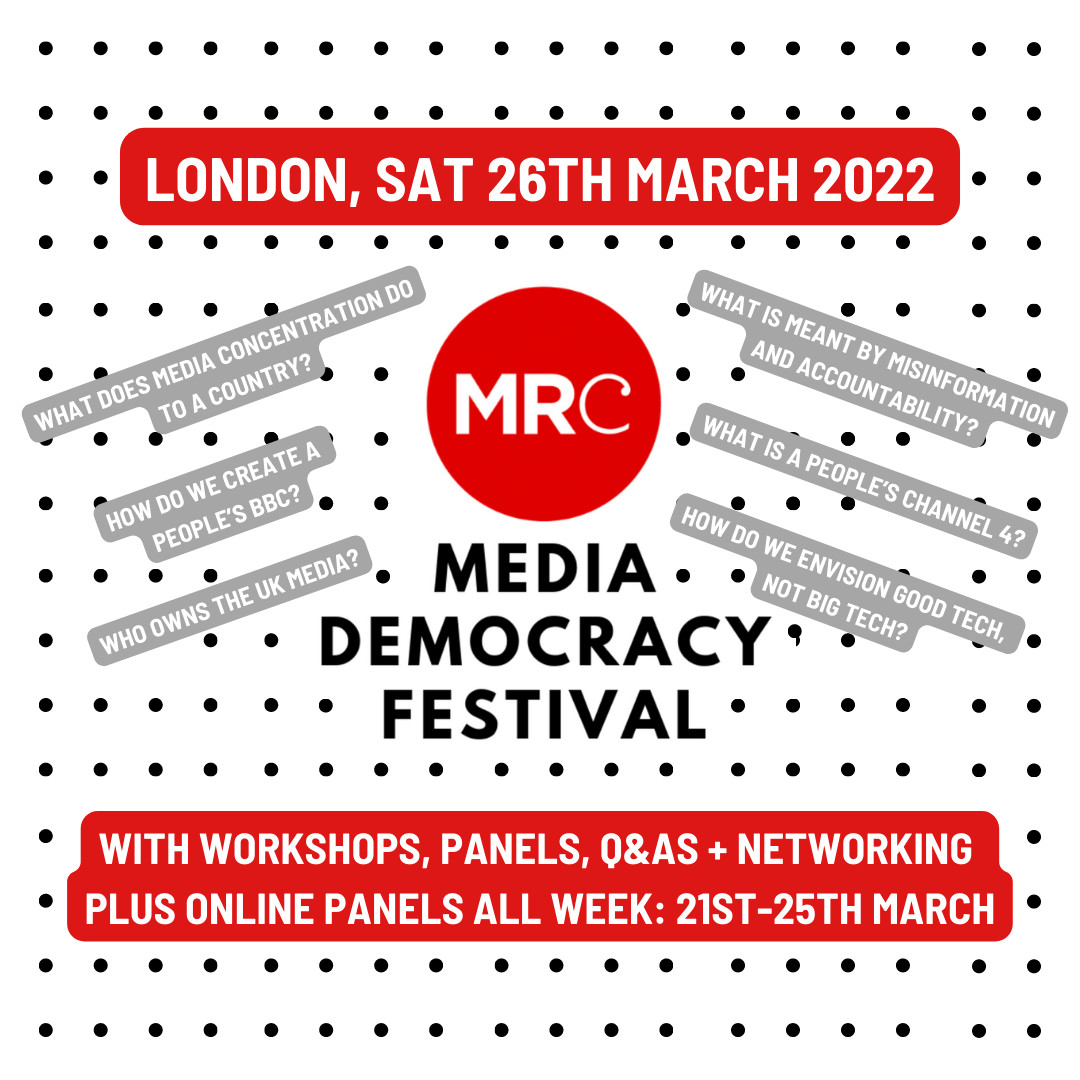 #MDF22
The Media Democracy Festival is back! ​​We're thrilled to announce that 2022's week-long celebration of progressive media voices will go ahead with a number of international online events from Monday 21st – 25th March, followed by an in-person event on Saturday 26th March at Birkbeck, University of London. Scroll to see both schedules 👇👇👇
Register for your FREE ticket to the Saturday 26th event.
The festival will consist of action and analysis on the media with regards to the climate emergency, activism, digital rights and privacy, anti-racism, worker power, and more.
Our panels, workshops, seminars and Q&As are led by a range of contributors including activists, journalists, trade unionists and expert academics, who will outline why our current media system is not fit for purpose and how we can transform it to meet our needs this decade.
Huge thanks to our community partner World Citizens London for helping us promote the festival to international visitors and residents of the capital.
All sessions are free, though we would hugely appreciate any donation you can make to the Media Reform Coalition to cover the running costs of the festival.
***SCHEDULE***
#MDF22
SATURDAY 26TH MARCH
Birkbeck Clore Management Centre, 27 Torrington Square, London, WC1E 7JL
Doors at 9:30
The opening Keynote will start promptly at 10am.
***
KEYNOTE: 10-11.15am
John McDonnell MP
Lecture Theatre | Keynote: The Media We Need in a Culture of Political Lies
***
SESSION 1: 11.30-1pm
Lecture Theatre | Envisioning Good Tech, Not Big Tech (Panel)
Dan Hind, author and journalist
Eliz Mizon (Chair), media writer
Henna Zamurd-Butt, decolonial internet researcher
James Muldoon, author of Platform Socialism
How can we envision an internet that will sustain us into a decade of crisis? For the pursuit of work, leisure, and survival, how do we sustain a progressive digital world and loosen the grip of Big Tech on society?
Room 1 | Countering the 'Culture Wars' (Workshop with Hanna Thomas Uose, Principal Consultant at Align)
The concept of a 'Culture War' has become a stick with which to batter progressives, derail debate, and stifle action. Rather than learning how to engage in the so-called 'war', how do we dispel the notion it exists in the first place and focus on what really matters?
Room 2 | Democratising Local Media (Workshop with Una Murphy, educator and publisher of VIEW Digital)
Local journalism is in peril, with journalists who report on their local communities bearing the brunt of layoffs and suffering the worst of the consolidation of media ownership. This workshop will explore how we can sustain local journalism, so journalists can continue to benefit their communities.
**Lunch 1-2pm**
SESSION 2: 2-3.30pm
Lecture Theatre | Misinformation and Accountability (Panel)
Des Freedman (Chair), founder MRC
Helen Belcher, Director of TransActual and Trustee of Trans Media Watch
Marcus Gilroy Ware, academic and author of After The Fact?
Rizwana Hamid, Centre for Media Monitoring
Misinformation is not simply a problem with Facebook, it has been endemic in the media industry for as long as it has existed. This panel will demonstrate how the state and commercial interests contribute to this problem, and we will ask how they can be held accountable.
Room 1 | Data Journalism 101
Workshop with Caitlin Ostroff, data journalist for WSJ
Want to know how to gather, analyse and use data and statistics in your reporting? Caitlin Ostroff will walk you through free resources for preserving information on the internet, including programs to monitor for changes to a website, and tools to analyse and collect data. This will be a broad overview for those with no background on data reporting, showing examples of how specific tools and data have been used in news stories. We welcome all who are curious and want to do storytelling—a fondness for maths and technology is NOT required.
***
SESSION 3: 3.45-4.30pm
Room 1 | Who Owns the UK Media? The Findings of the Media Influence Matrix Report
Presentation and Q&A with lead researcher Leo Watkins
Last year the Media Reform Coalition published a comprehensive, 250+ page report evaluating the regulation, governance, funding and ownership of the UK media. It is an essential tool for anyone trying both to understand and to press for changes to the existing UK media landscape.
The report covers:
Government, legislation and media policy, with a focus on the regulatory environment and the media policy-making process.

Journalism funding and consumption, with a focus on changing news consumption habits and the role played by an evolving mix of funding sources.

Technology, journalism and government, with a focus on how government is planning to regulate the big internet platforms and how news publishers are trying to reshape their relationships with those same platforms.
Come and find out more in this session with lead researcher Leo Watkins.
Room 2 | Manifesto for a People's Media
Seminar with lead researcher Debs Grayson and founder of MRC Natalie Fenton
In 2021, the Media Reform Coalition canvassed the public to imagine a media system where significant new public investment and new forms of participation ensure that it is independent, accountable, democratic and for everyone. Come and find out more about the Manifesto for a People's Media in this session with lead researcher Debs Grayson and the former Chair of the Media Reform Coalition, Natalie Fenton.
***
PLENARY: 4.45-6pm
Lecture Theatre | The Effects of Right Wing News Ownership: Q&A with Colston 4
Rhian Graham of the Colston 4, in conversation with Marcus Gilroy Ware, author of After The Fact?
Rhian Graham and her Colston 4 comrades were found not guilty of criminal damage in January after successfully arguing that their actions to bring down the Edward Colston statue in Bristol were "proportionate" measures. Right-wing news coverage was predictably harsh. The 4 even had GB News summoned to Bristol Crown Court over their coverage, which threatened to prejudice the trial. Rhian Graham of the Colston 4 is with us for a Q&A about how the right-wing press treated them and their fight for justice.
***SCHEDULE***
MON 21st-FRI 25th MARCH
The following sessions will be livestreamed on our YouTube channel, and Facebook Live (all timings are GMT):
Mon 21st 7pm – Framing the Climate Emergency: https://youtu.be/Fx4npOQP95c
Adi Kuntsman, reader in Digital Politics
Antonio Lopez (Chair), author of Ecomedia Literacy
Bene Brevini, journalist, academic and media activist
Peter Hannam, economics correspondent for Guardian Australia
We are in a climate emergency and the media has not done a good enough job at raising the alarm. But rather than simply blaming 'bad journalists', this panel will help us understand the wider socio-economic problem of how information is created, distributed, and understood – or not.
Tue 22nd 7.30pm – What Does Media Concentration Do to a Country?: https://youtu.be/gEcq8c90IOw
Bene Brevini (Chair), journalist, academic and media activist
Michael Ward, Ph.D. in media and comms, and former ABC exec
Senator Sarah Hanson-Young, Chair of the Senate Inquiry into Media Diversity in Australia
Tosca Lloyd, senior campaigner at GetUp
Australia's media industry has recently had a revolution… or so some would like you to think. The country's Big Media and Big Tech have recently gone head to head in a legal fight over who should control billions in advertising revenue, as the government set up an inquiry to investigate the impact of Murdoch's control over their media. Come to this panel to understand how Australia's media system is a microcosm of the problems of concentrated media ownership.
Wed 23rd 7pm – Creating a 'Media Commons': https://youtu.be/s_TCakx8myY
Debs Grayson (Chair), lead researcher of the BBC & Beyond project
Dorothy Kidd, long-time media activist, researcher and educator
Lexie Kirkconnell-Kawana, Head of Regulation at IMPRESS
Shirish Kulkarni, Community Organiser, The People's Newsroom Initiative
A 'commons' is a collective resource sustained through the active participation of those who rely on it. In a media commons, our media would be funded through significant public resources, and managed collectively so they serve our needs and help us face the challenges ahead. Come and find out more about creating a 'media commons' fit for the coming decade.
Thu 24th 3pm – Media Reform: Democratic Choices (in collaboration with CAMRI): via Zoom
Tom Mills (Chair), author of The BBC: The Myth of a Public Service
Victor Pickard, Co-Director, Media, Inequality & Change Center at Annenberg School, University of Pennsylvania
Trine Syvertsen,Professor of Media Studies, University of Oslo
Klaus Unterberger, Head of the ORF's Public Value Competence Center
Leo Watkins,media researcher at Goldsmiths
This session is a collaboration with CAMRI and the third of their PWR Workshops, a 40th anniversary retrospective of the publication of James Curran and Jean Seaton's Power Without Responsibility. This session reimagines the media and the internet as essential communication infrastructures in the democratic process, raising questions of institutional design, governance, and enhanced participation.
Thu 24th 7pm – Strengthening UK Media Unions: https://youtu.be/wumC9NATQe4
Benjamin Dictor, counsel to the NewsGuild of New York
Eliz Mizon (Chair), media writer
Natasha Hirst, Vice President of the NUJ
Philippa Childs, Head of BECTU
The UK media industry has numerous unions, and its workers need them –  the creative industries are notoriously exploitative, with low pay, insecure contracts, long hours and endemic abuse. How can media unions play a role in reinventing media worker power over the next few years?
Fri 25th 1pm – Creating a 'People's Channel 4': https://youtu.be/HN7PN4PwVjw
Ahmed Alauddin Jamal, award-winning documentary filmmaker
Debs Grayson (Chair), lead researcher of the BBC & Beyond project
Rod Stoneman, former Channel 4 commissioning editor
Tom Morton, lead campaigner at We Own It
How could we recreate Channel 4 as a true 'People's Channel 4'? The channel was launched with a genuinely alternative, and fairly radical remit, and developed the careers of numerous British filmmakers of colour. How can we build public support for a radical Channel 4 fit for the 21st century, and fight the Tories' privatisation plans? Come to this session to understand what our public institutions could become.
Fri 25th 7pm – Creating a 'People's BBC': https://youtu.be/fSSggLplEK0
Helen Jay, doctoral researcher and consultant, former Channel 4 Head of Policy
Jo Henderson, broadcast academic
Marcus Ryder MBE, Head of Consultancy, Lenny Henry Centre for Media Diversity
Tom Mills (Chair), author of The BBC: The Myth of a Public Service
How could we recreate the BBC as a true 'People's BBC'? How can we build public support for renewed public media, and create sustainable and affordable alternatives to the licence fee? Come to this session to understand what our public institutions could become.
Watch a video roundup of the 2019 MDF
Watch one of last year's live-streamed sessions: Stenographers or critics? Mainstream media and the "Westminster bubble"
We look forward to seeing you at #MDF22!