What follows is a fictional version of the lead story in the Guardian, 16 January 2014.
LABOUR THREAT TO BREAK UP UK MEDIA
Miliband pledges immediate review to bring more competition to the media sector
by Des Freedman (with thanks to Patrick Wintour and Jill Treanor)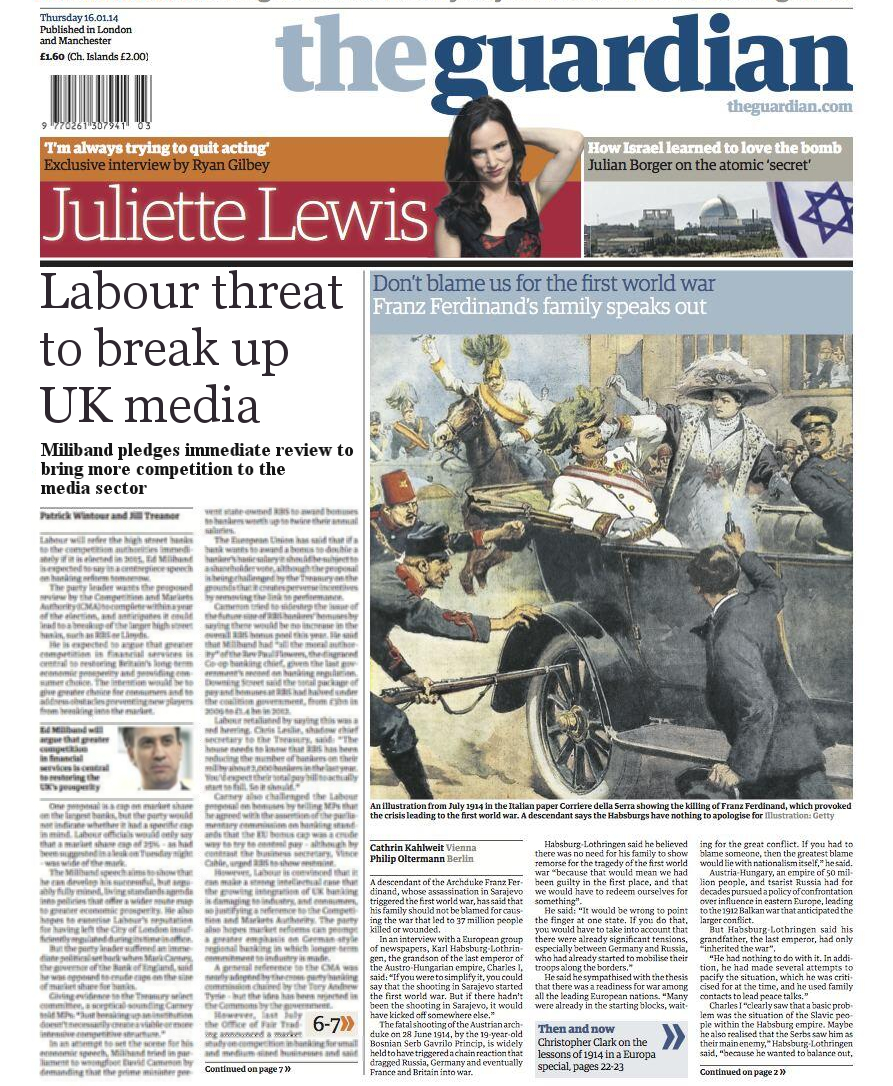 Labour will refer major media companies to the competition authorities immediately if it is elected in 2015, Ed Miliband is expected to say in a centrepiece speech on media reform tomorrow.
The party leader wants a proposed review by Ofcom to complete within a year of the election, and anticipates it could lead to a breakup of some of the larger media corporations such as BSkyB and the Daily Mail Group.
He is expected to argue that greater competition in the media market is central to restoring Britain's long-term economic prosperity and media pluralism. The intention would be to give greater choice for consumers and to address obstacles preventing new voices from breaking into the market.
One proposal is a cap on market share of the largest media groups, but the party would not indicate whether it had a specific cap in mind. Labour officials would only say that a market share cap of 25% was wide of the mark.
The Miliband speech aims to show that he can develop his successful, but arguably stalled, appeal to dismantle Rupert Murdoch's News Corp empire into policies that offer a wider route map to political pluralism and cultural diversity. He also hopes to exorcise Labour's reputation for growing too close to some of Britain's most powerful media moguls during its time in office.
But the party suffered an immediate setback when culture minister Ed Vaizey said he was opposed to crude caps on the size of market share for media groups.
Giving evidence to the Lords Communications Committee review on media pluralism, Vaizey argued that 'the difficulty with any kind of cap rule will be that it will be a cap perhaps in one sector of the media that would not reflect the whole range of different media and would not take into account the context in which that one sector exists in relation to others.' He added that the government is 'at the moment quite a long way away from examining those issues in the kind of detail that is needed.'
Last July, the government announced a review of media pluralism and said that this review would help the regulator Ofcom to decide whether to hold a full inquiry into media ownership. The Labour leader is expected to draw heavily of the criticisms of press groups set out in the Leveson Inquiry and argue that the Report that followed the Inquiry failed to stop media corporations operating as untouchable vested interests.
Labour has said it wants an obligation on the media to provide a full range of views for all citizens and to report accurately and ethically on matters of public interest. The government argues that it has already handed competition powers to Ofcom and the Competition Commission and that fresh social media players are entering the market.
It also claims that public trust in news titles is amongst the lowest in the European Union (21% in a recent poll) at the same time as the market share of the largest groups is unacceptably high. The big three control 70% of daily circulation while only five groups control some 70% of online news consumption measured by browsing time. These figures are seen as inappropriate for a modern pluralist democracy and have led to the recent demands for media reform.
---