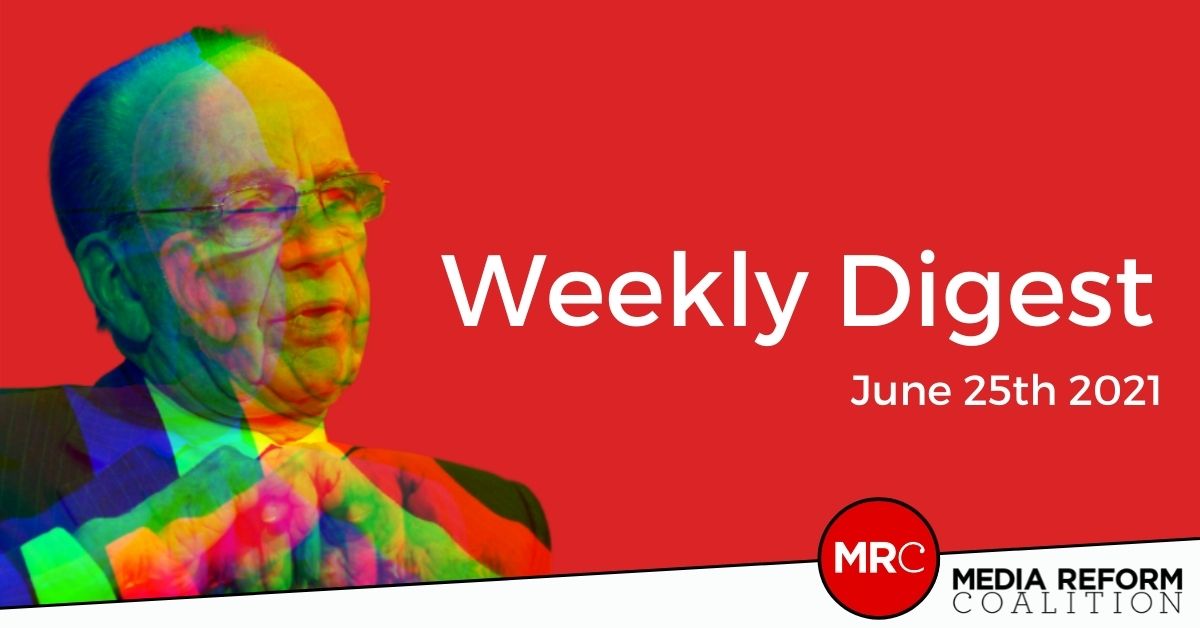 Hi everyone, Eliz Mizon here with the Media Reform Coalition blog every Friday.
For even more media news and analysis, plus the latest campaigns, content, and UK media jobs, follow me at Chompsky: Power and Pop Culture. 
For now, here's your media news digest!
On Tuesday we held another Town Hall event – "The nation's quarrel with itself: public media and constitutional crisis", jointly organised with Ulster University.
We had a great range of speakers who addressed the lack of representation of the different parts of the UK to one another, and the consequences for Northern Ireland as well as for issues such as Welsh independence. The conversation stressed the need for more nuanced coverage of complex constitutional questions, and a wider plurality of voices and positions to be heard across the media landscape. We had over 3600 viewers across different platforms – if you missed it you can catch up with it on our YouTube channel!
We have two more events coming up next week, and a third confirmed for mid-July:
The Wales-focused event will be run as a Zoom seminar, so if you would like to join us live you will need to register via the link above – as with all our other events, the recording will be made available on the MRC YouTube Channel afterwards. The events on Scottish public media and antiracism will be streamed on the MRC Twitter and Facebook and YouTube.
Remember, you can contribute to our Manifesto for a People's Media on the BBC and Beyond website here: https://bbcandbeyond.net/#manifesto
An Open Letter to Priti Patel: #Leveson2Now
After the Daniel Morgan murder report was released, showing clear collaboration between the police and the Murdoch and Mirror Group press in interfering with the murder investigation, Hacked Off and other campaigners, including Daniel's brother Alastair, are calling ever more loudly for the reinstatement of 'Leveson 2'. The second part of the Leveson Inquiry into the culture and practices of the press was cancelled by then-culture secretary Matt Hancock in 2018.
Sign the Open Letter to Demand #Leveson2Now
This week I spoke to co-founder of innovative local newspaper The Bristol Cable, Adam Cantwell-Corn. He spoke about the need for the industry to change, focusing on how to get people to pay for journalism again, and the ways in which this small paper has thrived while the industry has continued to struggle.
READ: Praxis Makes Perfect: Adam Cantwell-Corn
This Week's Media News