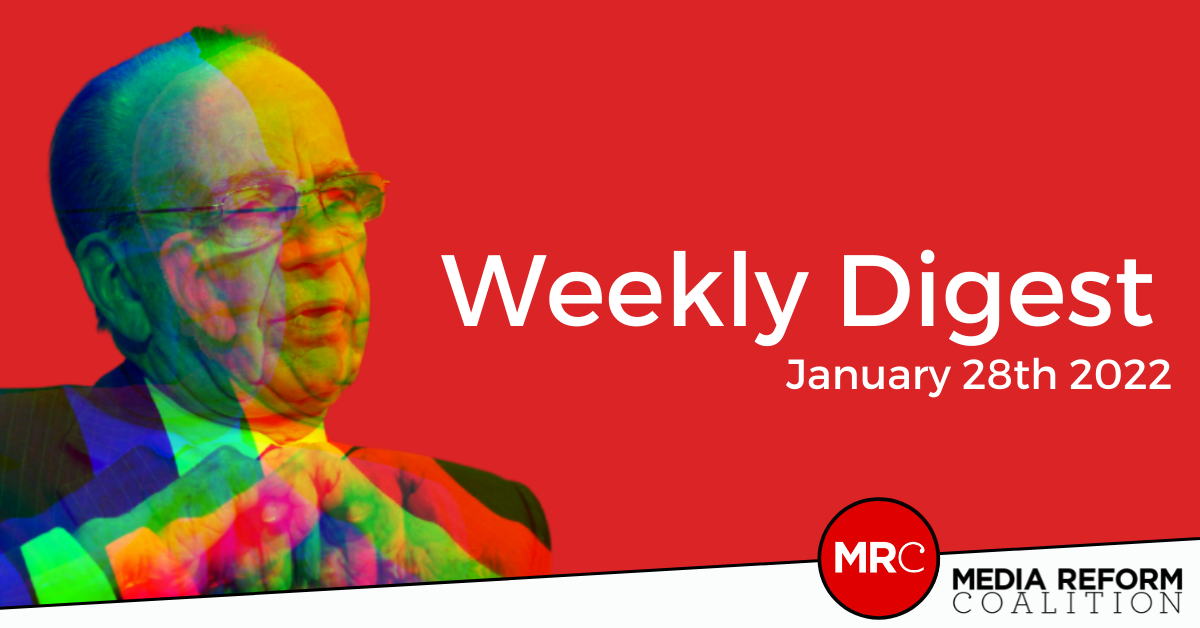 Hi everyone, Eliz Mizon here with the Media Reform Coalition blog every Friday.
For even more media news and analysis, the latest media reform campaigns, and intriguing content from around the web, follow me at Chompsky: Power and Pop Culture. 
For now, here's your media news digest.
I wrote a piece for openDemocracy this week: 
"Journalists, analysts and correspondents have alleged that BBC Arabic owes them thousands of dollars for work dating as far back as 2019.
BBC Arabic, part of the UK licence fee-funded World Service, is accused of withholding money from a reporter in a war zone as well as experts and commentators in the US.
It comes after veteran US-based analyst and broadcaster Mehdi Eliefifi interrupted his latest interview with BBC Arabic to make an on-air protest."
Please read and share to help promote the journalists' request for payment.
Have you read our Media Policy Agenda for 2022?
The MRC has produced a useful policy briefing that provides an overview of key issues for progressive development in, and protection of, the media industry.
It draws together several key issues that progressive campaigners are tackling, providing a useful bitesize overview for anyone interested, but most crucially for policymakers:
The future of the BBC and the licence fee

Channel 4 privatisation

Government appointments and media independence

Media plurality

Local journalism and press regulation
Check out the report, and feel free to share far and wide.
This Week's Media News
Spotify has

deleted

Neil Young's music from its service after Young gave them an ultimatum about hosting The Joe Rogan Experience: "They can have Rogan or Young. Not both". Rogan, who hosts the most successful podcast hosted by Spotify, has been repeatedly promoting vaccine and COVID-19 misinformation. A handful of Young's tracks remain, on soundtracks and other unaffiliated compilations. (WSJ)

In March, the government will bring a

case

against the BBC to the High Court attempting to prevent the broadcaster from releasing "a story which would reportedly identify a spy". The BBC claims the story is in the public interest, but Attorney General Suella Braverman says it "cannot and must not be published" on national security grounds. (Press Gazette)

The Center for Countering Digital Hate

says

Substack is making millions from writers, often already banned from other sites, sharing misinformation. Substack has defended its inclusion of "writers with whom we strongly disagree." The Washington Post notes a crucial difference: "Social networks use algorithms to spread content — sometimes misinformation — to users who don't want to see it. Newsletters and podcasts don't." (WaPo)

A data leak showing the private chats of far-right group Patriot Front

depicts

it "as a tiny group reliant on vandalism and fake social accounts to promote its message" who are "desperate for new members". Over 400 gigabytes of private messages from RocketChat, an 'alt-tech platform', were published by Unicorn Riot, "a left-wing nonprofit media organization that reports on social movements." (The Guardian)

Turkey's president Erdoğan has

said

that journalist Sedef Kabaş "will not go unpunished" after she was arrested for referring to him as an "ox" on social media. (The Guardian)

Local newspaper company Archant has been put up for

sale

fewer than 18 months after it was bought by investment firm Rcapital Partners. It is expected to be bought by another of the country's few large local newspaper-owning companies – National World, Newsquest, or Reach plc. (Hold The Front Page)

NYU's Center for Social Media and Politics and the International Women's Media Foundation have conducted

research

into how online violence against women "spikes" when they're attacked by prominent male media figures on either social media or broadcast media. (The Brookings Institution)

Sarah Palin's 2017

lawsuit

against NYT, alleging the Times defamed her by linking a mass shooting to her political rhetoric, began this week. Times contributor Jeremy W. Peters argues it's part of a "push to loosen libel law" and punish journalists for making mistakes in the "often messy process" of daily journalism. (NYT)

A second journalist has been

killed

in Mexico this week; Lourdes Maldonado had been under government protection after she "appeared at [President of Mexico] Lopez Obrador's morning news conference in 2019, pleading for help because she feared for her life." (Reuters)

Tim Davie, the BBC's director-general, has

said

that he can't guarantee the safety of funding for the Local Democracy Reporter Scheme or the World Service under the latest licence fee settlement. (Press Gazette)

The NewsGuild of New York has

filed

another complaint with the National Labor Relations Board (NLRB) against the NYT for union-busting: "At an all-company meeting earlier this month, management added new days off to the holiday calendar—Juneteenth, Indigenous Peoples' Day, Veterans Day, and two "global days off"—but said that it could only extend the holidays to non-unionized employees and unionized staff at Wirecutter." (Vanity Fair)

This week, the Times Guild also claimed that NYT management has withheld paid bereavement leave from unionised staff:
NON-UNION workers can take 10 days of bereavement leave for close family, 4 for others. @nytimes has doubled down on its tactic of offering better benefits to excluded employees, mostly managers. This means NYT is now willing to use our grief as a bargaining chip—in a pandemic.

— NYTimesGuild (@NYTimesGuild) January 26, 2022
Written by Eliz Mizon, Edited by Cléo Celeste