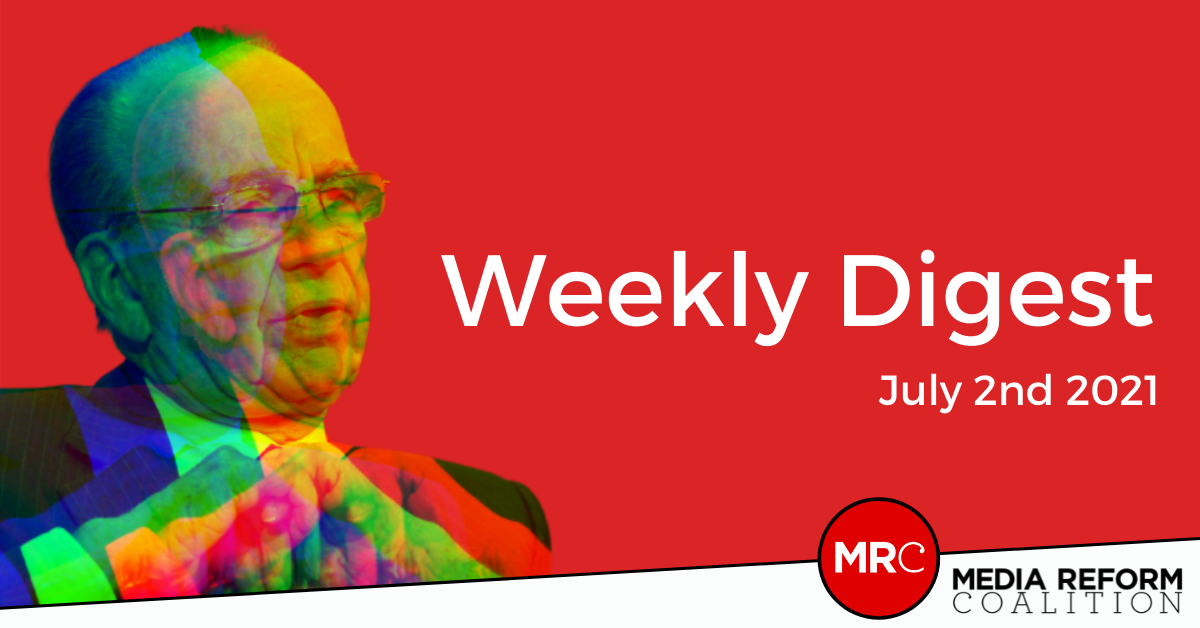 Hi everyone, Eliz Mizon here with the Media Reform Coalition blog every Friday.
For even more media news and analysis, plus the latest campaigns, content, and UK media jobs, follow me at Chompsky: Power and Pop Culture. 
For now, here's your media news digest!
This week we held two more of our Town Hall events. On Monday we had Scottish media, for everyone?, jointly organised with Pass the Mic. It was a brilliant conversation exploring how Scottish media currently fails to represent and serve the interests of all the people of Scotland, and how public media need to be underpinned by feminist principles of care and accountability. Over 1500 people tuned in live – if you missed it, the video is up on our YouTube channel. 
Then on Thursday we held a Zoom seminar with the Institute for Welsh Affairs on Reimagining Public service media in Wales. This was another really constructive conversation, particularly exploring the IWA's proposals for a new contestable journalism fund in Wales, and some of the key issues that would need to be taken into account in its design. The recording will be available on the MRC YouTube soon.  
The final event in the Town Hall series will be on Can public media be antiracist? on Wednesday, July 14th at 6pm. We've got a fantastic lineup of speakers, so do tune into that in a couple of weeks on our MRC channels.
Remember, you can contribute to our Manifesto for a People's Media on the BBC and Beyond website here: https://bbcandbeyond.net/#manifesto 
An Open Letter to Priti Patel: #Leveson2Now
After the Daniel Morgan murder report was released, showing clear collaboration between the police and the Murdoch and Mirror Group press in interfering with the murder investigation, Hacked Off and other campaigners, including Daniel's brother Alastair, are calling ever more loudly for the reinstatement of 'Leveson 2'. The second part of the Leveson Inquiry into the culture and practices of the press was cancelled by then-culture secretary Matt Hancock in 2018.
Sign the Open Letter to Demand #Leveson2Now
This Week's Media News