By David McKnight
A great many books have been written about Rupert Murdoch. So why write another one?
In my book I argue that previous accounts had misunderstood the man and his motives. His biographers, and especially his critics, see him first and foremost, as a businessman. They believe he is a person whose motives and actions can largely be explained by the desire to expand his profitable media business. His critics overwhelmingly assume that his undoubted political influence is mostly directed at obtaining government favours that promote his businesses. They argue that he will change his political allegiances purely out of self interest, with his support for Tony Blair's New Labour as the chief evidence for this.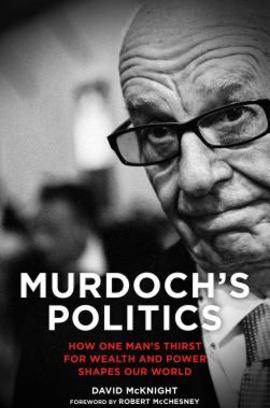 I disagree. I think Murdoch is just as interested in political influence and ideas for their own sake, as he is in getting favourable treatment from governments. This makes him a much more significant figure in politics and business.
Certainly Murdoch likes to portray himself as the ruthless businessman of his critics' accusations. He once said:  "All newspapers are run to make profits. Full stop. I don't run anything for respectability. The moment I do, I hope someone will come and fire me and get me out of the place – because that's not what newspapers are meant to be about. "
But this kind of talk is highly misleading because it is simply not true. For many years News Corporation has spent hundreds of millions of dollars propping up loss-making newspapers. The prime example is the New York Post, purchased for $37m in 1976, which has never made a profit and today costs an estimated $15-20m a year. The London Times also runs at a vast annual loss which was subsidized, in good times, by its profitable sister paper the Sunday Times. In 2009, these newspapers lost £87m. In Australia, Murdoch's local flagship the Australian, a newspaper with relatively few ads was also the best resourced newspaper in Australia. All of these loss making newspapers are, in effect, political subsidies designed to give Murdoch influence and a seat at the table of national politics in three English speaking nations.
There are many other examples of his desire to exercise political influence. At the end of 2012, the famous Watergate journalist, Bob Woodward, revealed that Murdoch's head of Fox News, Roger Ailes, had tried to get General David Petraeus to run for US President. Roger Ailes had sent a message to Petraeus who was head of US forces in Afghanistan. The message was delivered via his one of his Fox News commentators. At that time Petraeus was rumoured to become head of the CIA. Ailes suggested he reject this appointment and instead run for the Republican nomination for President.
Petraeus rejected this but in the course of a discussion said that: "Rupert's after me as well." Petraeus added that he understood that Murdoch was offering to bankroll his campaign. As comedian Stephen Colbert said, it was Ailes's attempt to do a reality show – except not a TV reality show but a reality-reality show. Rupert would bankroll it, Ailes would run it and Fox News would sell it to their audience. Woodward's Watergate colleague Carl Bernstein decribed it as "an attempt to hijack America's democratic institutions".
Come and hear more from David McKnight as he introduces his book, Murdoch's Politics: How One Man's Thirst for Wealth and Power Shapes Our World, at 6.30pm, Friday 15 March, Centre for Creative Collaboration, 16 Acton Street, Kings Cross, London, WC1. Free admission.
Read the Guardian's review of his book here.
Picture by: politicos.co.uk