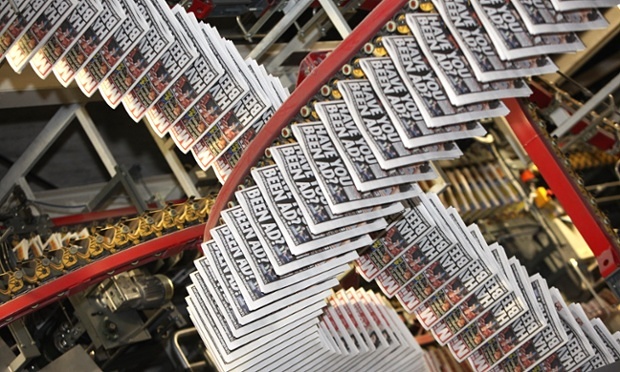 Trinity Mirror has announced the full acquisition of regional publisher Local World, making it the biggest regional news publisher in the country with control of more than 20% of all titles.
The deal will cost about £160 million and give Trinity Mirror combined revenues dwarfing even the UK wing of American giant Gannett, owner of Newsquest and Trinity Mirror's next biggest competitor.When it comes to tackling the power of media moguls who are choking democratic debate, demonising the most vulnerable in society, and fuelling unethical practices like phone hacking, Corbyn and Watson are squarely on the same page. 
Trinity Mirror is already the third largest publisher at a national level, and this deal will allow it to wield huge amounts of unchecked power in a media environment dominated by massive conglomerates and a few wealthy individuals such as Rupert Murdoch and Lord Rothermere. 
With a criminal prosecution still hanging over Trinity Mirror for its involvement in phone hacking, campaigners for media diversity and press regulation are condemning the move they say will give too much power to a single company.
The Media Reform Coalition's new report, 'Who Owns the UK Media?', shows how the deal will cause tectonic shifts in the regional news market, as the number of companies that control over 80% of local titles drops overnight from six to five. The Media Reform Coalition argues that the UK suffers from endemic levels of concentration in news and information markets, which threaten to choke democratic debate through unaccountable political influence and sheer lack of diversity.
The problem runs especially deep in local news markets, with the country split between 'news deserts' – where professional journalists have been drained away by cuts and closures – and widespread local monopolies or duopolies. The report shows how 36 million UK citizens have no daily paper that can scrutinise court cases and council meetings. Meanwhile 43% of Local Government Areas rely on just a single title for their reporting.
According to Trinity Mirror's accounts, between 2000 and 2014 the number of staff employed by the company was cut by two-thirds, from 13,000 to 4,368. Yet clearly there is money to be made in local newspapers and Trinity Mirror is not acquiring an ailing rival but a thriving business that made nearly £40 million in profits last year. By contrast with journalists on the ground, Local World's chief executive, David Montgomery, will leave the company with nearly £10m for his 5% stake.
Professor Des Freedman, chair of the Media Reform Coalition, said 'today we are calling on the competition authorities to give urgent consideration as to whether this deal should go ahead, taking into consideration pending cases hanging over the company in relation to phone hacking, including a possible criminal prosecution from the Metropolitan Police. In the longer term we need clear lines on how much control of a market a single media enterprise can have, as well as effective measures to safeguard editorial autonomy and support local journalism at the grass roots level.'
For comments and enquiries contact Alistair Cartwright – alistair@mediareform.org.uk, 07826 541 052.
Download a copy of the MRC's ownership report here –
https://www.mediareform.org.uk/who-owns-the-uk-media