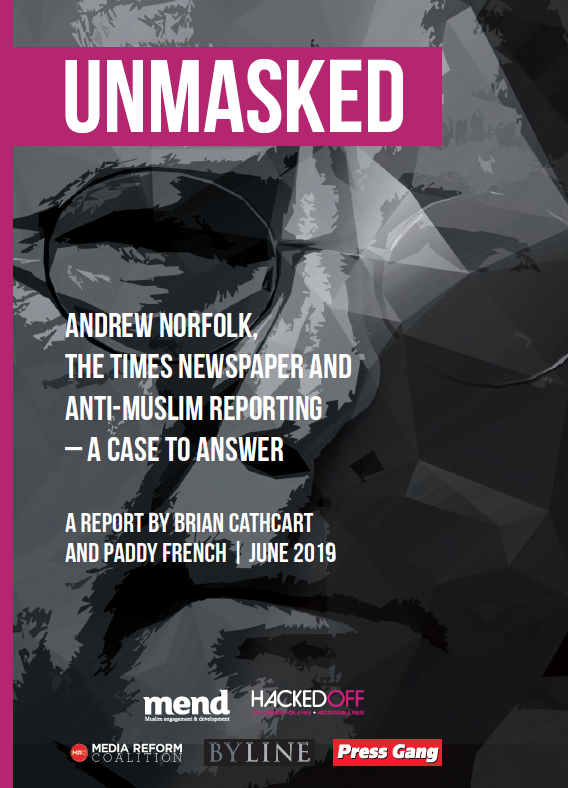 A detailed study out today finds that three times in 15 months the chief investigative reporter of the Times, Andrew Norfolk, published sensational series of front-page articles portraying Muslims as threatening – and in every case central allegations were unfounded.
The study, written by investigative journalists Brian Cathcart and Paddy French and supported by the Media Reform Coalition, identifies a pattern in which significant information demonstrating the true position was either omitted or buried. The authors assert that a responsible, conscientious reporter could have found this information and would have given it prominence.
The report shows that The Times repeatedly failed to do basic fact checking in a number of stories targeting Muslims and routinely omitted essential context. This resulted not just in a litany of falsehoods about Muslims, but served to amplify an increasingly prevalent Islamophobia and fuel an emboldened racist agenda in the context of a higher level of hate crimes. This kind of reporting would be unacceptable in any publication, but it is particularly egregious given The Times' claim to be Britain's 'newspaper of record'. That the newspaper then failed to respond to the allegations serves as a chilling reminder of press unaccountability. That is why the Media Reform Coalition is today backing calls for The Times to refer to itself to the Equalities and Human Rights Commission for an urgent, independent and credible investigation into its reporting on Muslims.
The scandal implicates the Times' editorial management under editor John Witherow, which not only gave flawed articles prominence but promoted them aggressively in editorials and defended them when the facts were obvious. To make matters worse, all of this occurred when hate crimes against Muslims were at peak levels. To this day there have been no substantive corrections or apologies.
The report raises serious concerns about standards at a leading national newspaper. Its authors call on the Times to instigate a credible external investigation of the conduct of Andrew Norfolk and of the Times' editorial team to determine what has gone wrong and why, and to begin rebuilding journalistic standards.
UNMASKED is published with the support of MEND (Muslim Engagement and Development), Hacked Off, the Media Reform Coalition, Byline and Press Gang. Brian Cathcart is Professor of Journalism at Kingston University London and a former senior journalist at The Independent papers and the New Statesman. Paddy French is an award-winning investigative reporter who has worked for ITV, Channel 4 and the BBC.
You can read the full report here.