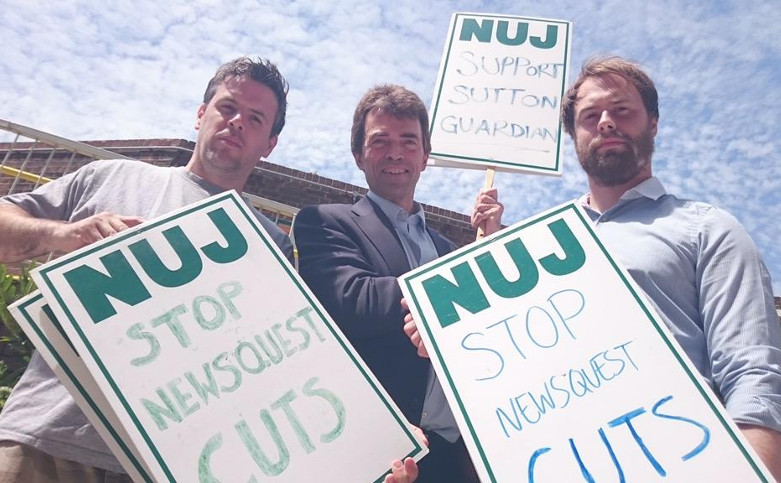 Members of the London Assembly have pledged to support Newsquest journalists in the capital. A delegation of striking Newsquest journalists, led by Michelle Stanistreet, NUJ general secretary, met Assembly members representing the Conservatives, Labour, Liberal Democrats and Green Party.
They were told cuts to staff meant that many London boroughs were covered by one reporter and that Croydon, with a population of 350,000, would have just one reporter because of proposed redundancies. The delegation also voiced their concerns about plans to make reporters in Petts Wood work from Starbucks and JD Weatherspoon because they will no longer have an office.This means that trainee reporters will be working alone without the support of more experienced colleagues.
The Assembly members were shocked to hear that some trainee reporters are paid below the London Living Wage. The delegation said the cuts were having a serious effect on their ability to cover courts, health authorities, council meetings and community events. According to an analysis by the Press Gazette, London is one of the least-covered regions in the UK by local newspapers. The capital has fewer newspapers per million of population compared to other regions in the country such as Northern Ireland, which has 33.
The Assembly members, Andrew Boff, Val Shawcross, Stephen Knight and Darren Johnson said they would write a cross-party letter to Newsquest, consider an emergency motion at the next plenary meeting and would discuss holding an inquiry into local newspapers in the capital. The members will also ask Newsquest to pay the London Living Wage, to invest in quality journalism and will propose that a subbing hub be set up in London to prevent production jobs moving to the company's hubs in Weymouth and Newport.
Elsewhere, support for the strikers at Sutton and Petts Wood gathered momentum on social media. Messages were received from local politicians. James Berry, Conservative MP for Kingston and Surbiton joined the picket line and tweeted: "With the @SurreyComet team in #Kingston protesting at the proposed redundancies. Big impact on local democracy."
Tom Brake, Liberal Democrat MP for Carshalton and Wallington, tweeted: "I support journalists of @NUJofficial. We should all be worried by threats to local newspapers, which are the bedrock of free speech."
Vicky Foxcroft, Labour MP for Lewisham Deptford, sent the following statement:
"I am very concerned about announcements by Newsquest that they have plans to merge editorial teams at their South London offices. "I am troubled that the merger would see our local editorial office merge with those in South West London; this would result in major job losses and see journalists in the South-East of our city having to work remotely.

"The News Shopper in my area, and other local publications owned by Newsquest, are a vital local source of news for many people. They play a hugely important role in local democracy and they open up debates for people who do not have the means to engage online.

"Newsquest and the government must do more to ensure jobs are protected and local newspapers stay in circulation. I am concerned that any merger of editorial teams will result in the slow decline of relevant local news and active reporters in the area of my constituency Lewisham Deptford.

"I am committed to supporting the News Shopper to help ensure it will remain a well-read and published local paper. I also offer support to striking staff that are fighting for their jobs, to be paid the living wage and to save their local editorial offices."
SUPPORT THE NQ STRIKERS: to find out how to make a donation, contact Andrew at brass19@hotmail.com
Update: Take Action Now:
Get your MP to support Early Day Motion 179: Newsquest Newspapers In South London
That this House believes that local newspapers play a crucial role in enhancing local democracy, such as by reporting on council meetings, holding local decision-makers to account and providing a forum for local issues; recognises that many local journalists are paid below the London Living Wage, despite the valuable work they do; is therefore concerned that Newsquest South London, a large regional publisher, is planning to cut the number of journalists and impose redundancies at local newspapers in South London, including the Croydon Guardian, Sutton Guardian, Wimbledon Guardian, Wandsworth Guardian, Epsom Guardian, Surrey Comet, Elmbridge Comet and Richmond and Twickenham Times; notes that Newsquest has made large profits in recent years; is further concerned about the impact that these job losses could have on the quality of local journalism; regrets that many local journalists have decided to go on strike over the last fortnight; and calls on Newsquest to review urgently its plans for job losses in South London.
Sponsors: Mathias, Tania / Goldsmith, Zac / Scully, Paul / Philp, Chris / Johnson, Boris / Bottomley, Peter
House of Commons: 24.06.2015
Put your MP to work demand they sign EDM 179
You can contact your MP for free, through: WriteToThem.Com
http://www.writetothem.com/
Story hyped nicely by press gazette today (25 June) …
http://www.pressgazette.co.uk/boris-johnson-and-other-mps-back-london-journalists-strike-living-wage-and-office-work