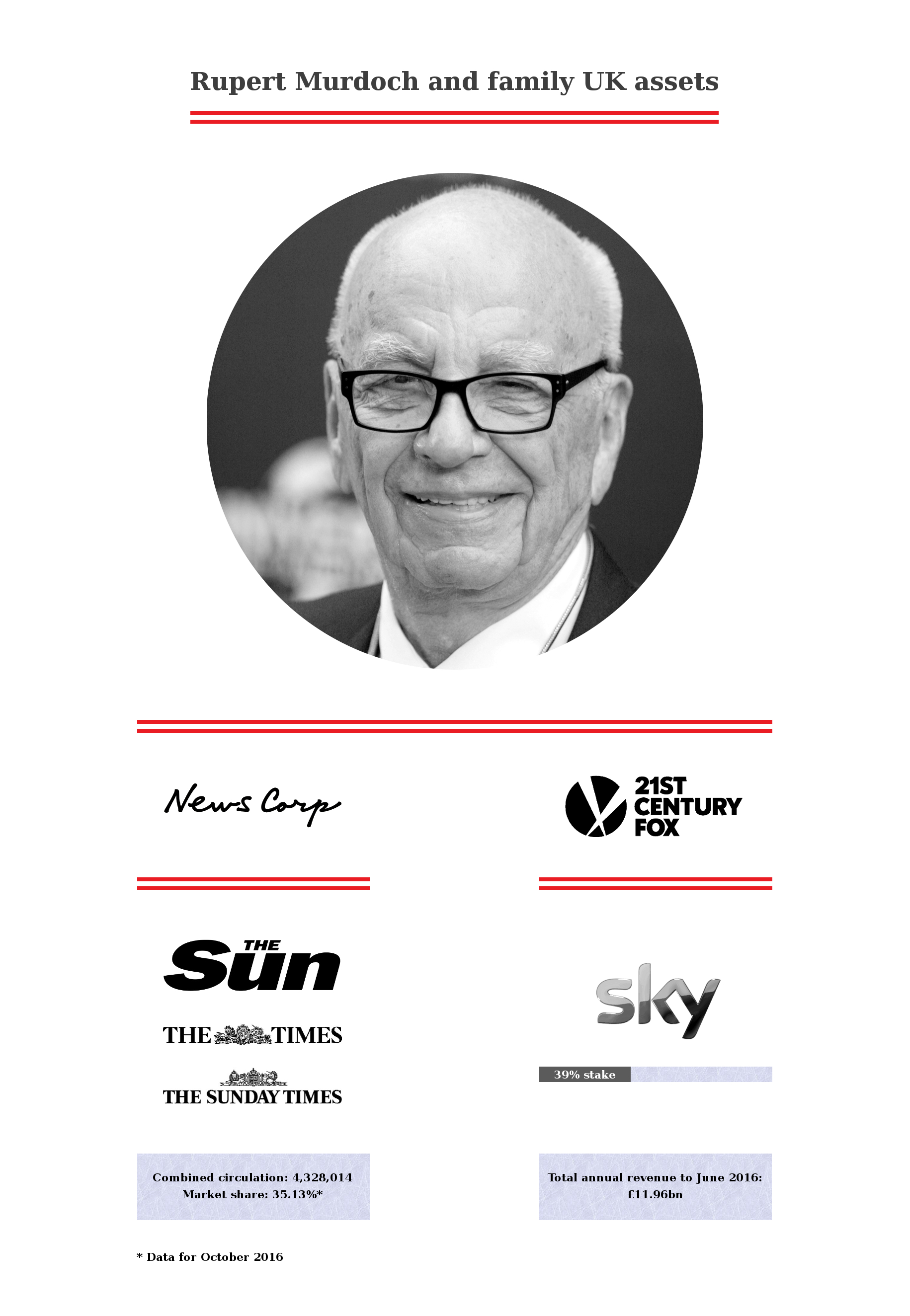 1969: With several Australian outlets under his belt, Murdoch enters the UK media market with the purchase of the News of the World and, soon after, the Sun, which is relaunched as a tabloid, becoming the UK's highest selling daily.
1973: Murdoch moves into the US market, buying the San Antonio Express-News.
1976: Murdoch buys the New York Post, which he will be forced to sell in 1988 due to cross-media ownership laws but will buy again in 1993.
1981: On 4 January, Murdoch secretly meets Prime Minister Margaret Thatcher over Sunday lunch at Chequers. In February, News International buys the Times and Sunday Times, gaining an almost 40% share of the British press.
1985: News Corporation acquires 20th Century Fox.
1986: News Corporation buys Metromedia, which includes television stations in Chicago, Dallas, Houston, Los Angeles, New York and Washington, and launches Fox Broadcasting. Murdoch moves New International's newspaper operations to Wapping, triggering a dispute with print unions. Murdoch dismisses all striking print workers.
1987: News Corporation Buys US publisher Harper & Row.
1989: News Corporation buys Collins, which Murdoch merges with Harper & Row to form HarperCollins. Sky Television is launched in the UK, merging with BSB to form BSkyB the following year.
1990: The Broadcasting Act, 1990 introduces rules on cross-media holdings to prevent ownership being concentrated in too few hands. Controversially, a loophole protects Murdoch's ownership of Sky Television (and merger with BskyB) because it was defined as a non-UK service.
1994: Murdoch buys a 20% stake in New World. New World's 12 major market stations switch affiliations to Fox Television.
1996: Fox News is launched.
1997: News Corporation and Fox acquire the remaining 80% of New World.
2003: Murdoch buys part of US satellite TV distributor DirecTV.
2004: News Corporation reincorporates to the US from Australia. John Malone's Liberty Media acquires an 18% per cent voting stake in News Corporation.
2005: Murdoch buys social networking site MySpace for $580m, which he will later sell for $35 million.
2006: Murdoch agrees to sell his 34% stake in DirecTV to John Malone, buying back Malone's News Corporation voting shares. The sale is completed in 2007, giving the Murdochs control of 40% of News Corporation.
2007: News Corporation buys Wall Street Journal publisher Dow Jones & Company. In 2010, it will sell a 90% stake in Dow indexes to CME for $600m. The Fox Business news channel is launched.
2010: News Corporation makes a £7.8bn bid for full control of BSkyB.
2011: In March, James Murdoch is appointed deputy chief operating officer of News Corporation and chairman and CEO of News International. In July, the hacking scandal breaks out, forcing the withdrawal of Murdoch's bid for BSkyB and the closure of the News of the World. Rupert and James Murdoch testify before the Commons Culture, Media and Sport Select Committee on the phone hacking scandal. The committee's report will find Murdoch 'not fit' to lead an international media organization.
2012: British prosecutors bring criminal charges against eight Murdoch associates, including Andy Coulson, former News of the World editor and former communications adviser to Prime Minister David Cameron, and Rebekah Brooks, former News International CEO. In February, James Murdoch resigns as deputy COO, chairman and CEO of News International and chairman of Sky, retaining a seat on the board of Sky as a non-executive director and role of deputy chief operating officer of News Corporation.
2013: Murdoch increases his stake in Sky Deutschland, gaining a majority share. Murdoch splits News Corporation's assets in two, forming News Corp and 21st Century Fox.
2014: Andy Coulson is sentenced to 18 months in prison for his role in the hacking scandal. Rebekah Brooks is acquitted of all charges. James Murdoch is appointed co-chief operating officer of 21st Century Fox.
2015: Lachlan Murdoch is appointed Co-Executive Chairman with Rupert of 21st Century Fox and James Murdoch becomes CEO.
January 2016: James Murdoch returns to his former position as chairman of Sky.
December 2016: 21st Century Fox moves to take full control of Sky, valued at £18.5bn.
Take action
21st Century Fox, led by Rupert Murdoch, has reached an agreement in principle to buy Sky, the UK's largest broadcaster.
Murdoch was forced to withdraw his first bid to gain full control of Sky in 2011 by the unraveling phone hacking scandal. A report by the Commons Culture, Media and Sport Select Committee on the phone hacking scandal, found Murdoch 'not fit' to lead an international media organization.
We believe that this takeover would not be in the public interest and that the plurality of the UK's media landscape would be seriously diminished if it went ahead. Our media is already dominated by a handful of very powerful organisations that exert huge control over the national conversation.
We are calling for Karen Bradley MP, Secretary of State for Culture, to prevent this unchecked extension of Murdoch's media power and to issue a public interest intervention notice and for regulators to launch a rigorous investigation into the proposed acquisition, including a fit and proper person test.