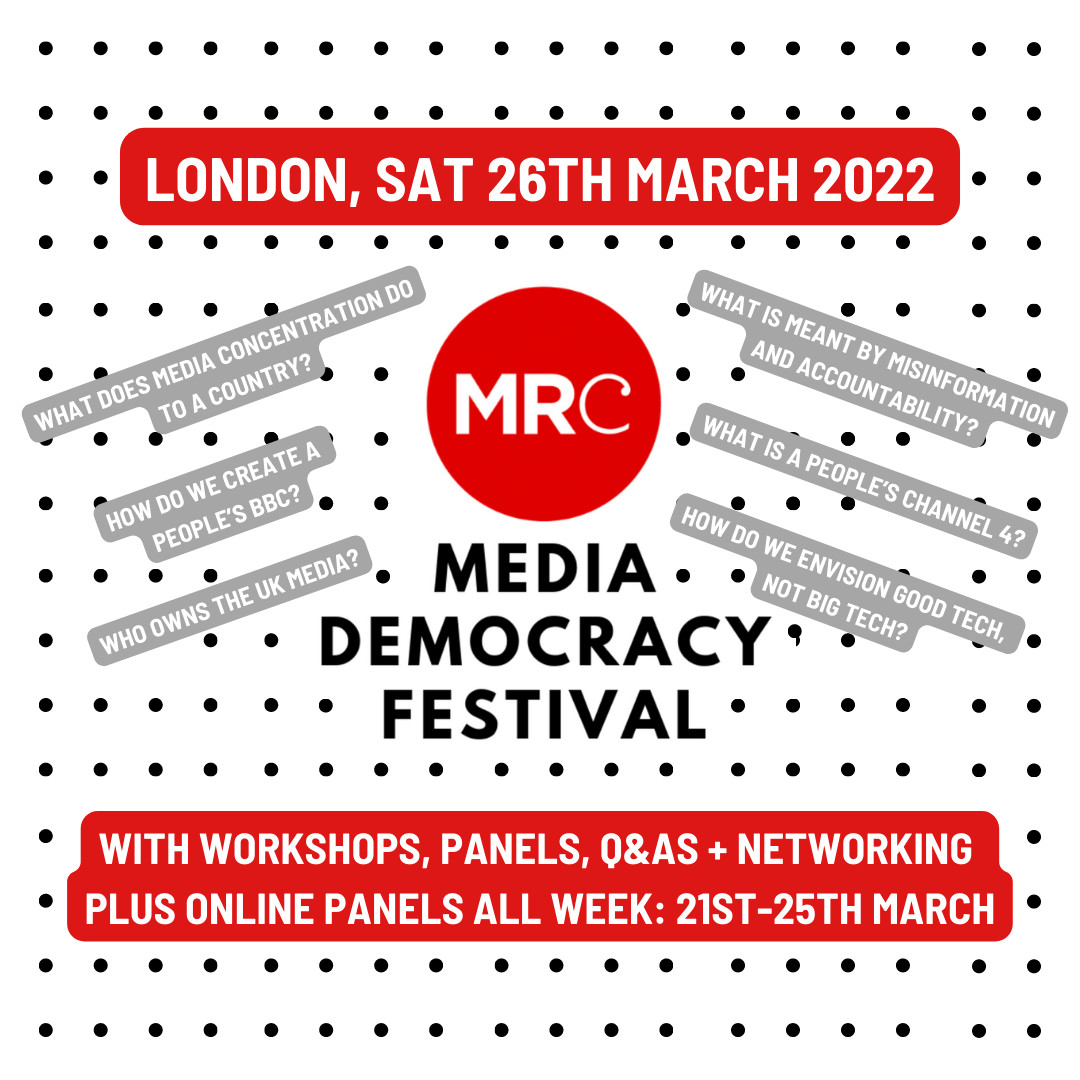 Our free yearly Media Democracy Festival has already started, but there's still plenty of opportunities to get involved and watch important discussions on a wide range of topics!
The Media Democracy Festival kicked off on Monday 21st March with Framing the Climate Emergency, which was an interesting look at how the media has been reacting to the climate emergency. Click here to watch on Youtube.
On Tuesday, our focus was on What Does Media Concentration Do to a Country?, focusing on Australia's media system and their attempts to stop a concentrated media ownership. Could a similar system work in the UK? Watch the discussion here!
Join us tonight (Wednesday 23rd March) at 7pm as we discuss Creating A Media Commons. What would it look like if we had a media commons that truly represented the people it represents? Watch on our Youtube tonight – and if you miss it, don't worry, with all of our events you can watch it back at a later date!
On Thursday (24th March) at 3pm we are collaborating with CAMRI for a Zoom session looking at Democratic Choices – reimagining the media and the internet as essential communication infrastructures in the democratic process. Register for your place here!
At 7pm, we are discussing Strengthening UK Media Unions. How can media unions play a role in reinventing media worker power over the next few years? Join us here!
Friday (25th March) at 1pm we are looking at Creating a 'People's Channel 4' – how can we build public support for a radical Channel 4 fit for the 21st century, and fight the Tories' privatisation plans? Come to this session here to understand what our public institutions could become if we created a true Channel 4 for the people.
At 7pm, we are looking at Creating a 'People's BBC' – How can we build public support for renewed public media, and create sustainable and affordable alternatives to the licence fee? Join us as we look at what the future of the BBC could look like!
Our Media Democracy Festival closes on Saturday (26th March) with a special in-person event at Birkbeck, University of London with a keynote speech by MP John McDonnell. We will also have a variety of sessions on the day, such as Envisioning Good Tech and Democratising Local Media. Like all of our events during the Festival, it is free to attend – register for your free ticket here!
We hope you enjoy the Festival!